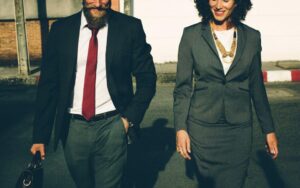 Opinion 11.03.2019
What Does It Really Take To Make It In VC?
Venture capital has risen to prominence in the last few years, sparked by the rapid evolution of tech, and demand for private cash to fund a constant stream of new innovations. Yet, despite its increased profile, there is still an air of mystery around what is actually involved in being a VC investor.
From the outside, there is a tendency to romanticize VCs, as entrepreneurial saviors, who swoop in, wave their magic wands and decide the fate of hard-working startups. It can also seem like we get the easy side of the deal – sitting back and waiting for the money to roll in, while frazzled entrepreneurs sweat away at the coalface.
We've also had our fair share of negative press, most recently due to the lack of diversity in the industry – particularly when it comes to gender. Recent research found that a paltry 1% of VC money goes to female-founded startups, a figure that is unlikely to be helped by the fact that less than 10% of VCs are female.
VC has traditionally been (and predominantly still is) made up of white males in their 40s. Although things are slowly changing, as a wider, more global spectrum of industries undergo tech transformation. Greater diversity amongst entrepreneurs demands a greater diversity of VCs. Plus, encouraging new categories of funds and investors will only lead to better results over time.
Of course, there is no quick fix. But a good start would be for VCs to do more to bust myths around the profession and promote how it really works, to encourage a broader diversity of new entrants. With that in mind, here's what 20 years' experience has taught me about what it takes to make it in VC:
Ability to deal with uncertainty
VC is a game of uncertainty, requiring the confidence to make big decisions with limited information. Your job is to identify great entrepreneurs and businesses, based on a minimal track record and very little data to help you. It's for this reason that we focus on people as much as ideas, to bet on founders that can cope with whatever obstacles and pivots lie ahead. In many cases, it comes down to gut feel as much as anything – so you need to be comfortable with trusting your instincts.
Being a mentor and problem-solver
As a VC, your entire success depends on the performance of the entrepreneurs that you invest in, so a big part of your time is focused on helping them do the best job they can. You have to build relationships and trust quickly, in order to spot where the gaps are and plug them as soon as possible. You also spend a lot of time in a mentor capacity, asking the right questions to steer founders towards important decisions, while always balancing this support with ensuring expectations and metrics are met.
Nurturing and leveraging your network
Entrepreneurs, particularly if they're first time founders, frequently don't know where to turn for the advice and expertise they need for different areas of the business. As a result, one of the biggest ways that VCs can add value is through introducing founders to useful contacts, whether that's potential employees, consultants, partners, or other investors. You, therefore, need to spend time building and honing your network, so that your portfolio companies can tap into it when they need to.
Convincing investors
Of course, you can't build a portfolio without any money, which is where your LPs (Limited Partners) come in. They're the family offices, foundations, endowments and institutional investors that contribute to your fund, and every three to four years, VCs dedicate a lot of their time and effort to raising their next fund – going through numerous meetings to convince LPs that they're a good investment.
Plate spinning
VC is about sourcing, investing, growing and exiting – and you will, at some points, be doing all at once. You have two target audiences: your LPs and your portfolio companies, so you need to make sure you are serving both effectively. Plus, the fact that you're dealing with fast-growth businesses means you need to be always on. The best VCs go the extra mile for founders, being available, 24/7 as a sounding board or extra pair of hands.
Ability to work autonomously
VCs are usually managing a large, distributed portfolio, amongst a small team, which means you spend a lot of time working on your own, often while traveling from place-to-place. Meanwhile, your team members are doing the same, but in another part of the world. So, you need to have the knack of working on the move and be happy to collaborate remotely, as face-to-face meetings aren't always possible
Patience and a long-term perspective
Finally, there is no short-term fix in venture capital, so you need to be in it for the long haul. Building good companies takes time – around five to seven years, or even longer – and the industry is flush with risks and potential issues that are constantly threatening to trip you up. It can be hugely exciting at times, but there is a lot of mundane and boring stuff in between those moments. The key is to see the full cycle from entering to exiting, to really understand what it takes.
VC isn't for everyone. It can be a long old slog, and you definitely need a fair bit of luck along the way. But it can also be hugely rewarding, both financially and emotionally, if you get it right. It's great when you see startups respond positively to your input and hard work, and know that you've contributed to their business success. And with startups and technology evolving faster than ever, we need people from all walks of life, to provide the diversity of perspectives, that is so integral to making that happen.