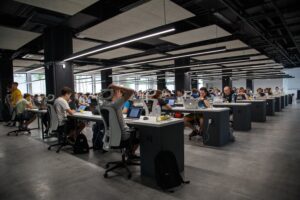 Opinion 13.09.2022
What are the alternatives to layoffs as economic pressures bite?
Photo Credit Unsplash Alex Kotliarskyi
As a startup founder or CEO, how you respond to changing market conditions can be the difference between success and failure. And as central banks warn of recession, and inflation reduces spending power, CEOs have tough decisions to make about cost-cutting, growth plans, and cash runways. For many, that means thinking the unthinkable – redundancies – with over 500 startups already having laid off staff this year.
People are expensive, so reducing headcount usually seems like the obvious option for reigning in spending. But cutting people also means losing skills, knowledge, impacting morale and culture, plus with the potential for reputational damage on top. When growth has been the focus for so long, no founder wants to announce that their headcount is going in the wrong direction.
But are there any alternatives for cutting serious costs? Or, if you absolutely must lose people, how can you minimise the damage to headcount and morale? Several of our portfolio companies have faced this conundrum in the last couple of years due first to the pandemic and now the economic and geopolitical situation, which has brought unexpected cost rises, and disrupted global supply chains.
Here are a few strategies that can help take the sting out of redundancies – or avoid them altogether.
Be upfront and trust in self-selection
It might sound counter-intuitive but as soon as you realise there is the potential for job losses, put your cards on the table with staff. Your instinct might tell you to keep schtum to maintain morale but being fully transparent about the gravity of the situation will actually increase your options. You're effectively giving staff the opportunity to self-select before you need to make any binding decisions.
One founder told us: "Your team can read the papers, so don't try to shelter them from what's going on. Put the whole situation out there, and people who aren't up for the challenge, or the new direction of the business, will nine times out of ten decide to leave. Maybe they would have left soon anyway, plus it means nobody is pushed out. Give them a platform to choose."
On the flipside, identify those employees who you really want to stay and speak directly to them and encourage them to stick it out. The silver lining of going through this process is it gives you an opportunity to find out who is really committed to the business, irrespective of current headwinds, while gently saying goodbye to those who are less comfortable with the uncertainty, and who may ultimately prefer to be elsewhere.
Crowdsource solutions
Getting on the front foot with your team also gives them the opportunity to input on where cost savings can be made. Everybody has their specific focus and expertise in the business, so they will have ideas you might never have thought of, such as where employees can double up on roles to reduce new hires, or areas of inefficiency or wastage that aren't obvious to you.
For example, could your cloud infrastructure be set up differently to reduce costs? What about subscriptions and online tools – are they all necessary or are there cheaper or free versions available? One of our portfolio companies found that by having this conversation, they managed to reduce subscription costs by 40%, simply through staff taking a more frugal attitude.
It's an approach that can be applied to salary cuts, benefits, and perks too. These are all obvious areas to cut, but not pleasant issues to raise with staff. So, rather than dictating what salary cuts or new benefits package will look like, can you ask staff what their priorities are, to minimise the impact, and so they feel included and in control?
"We cut out medical insurance because it was a big cost, but at the same time we were open with staff about the budget we had for perks and asked them what was most important to them," says Virraj Jatania, Founder of Pockit, the challenger bank, which caters for the unbanked. "So, they had the power over how their benefits budget was being spent and could prioritise what was most important to them."
Tailor your approach to senior staff
Hefty salaries mean that senior staff are often near the front of the line when it comes to redundancies. But, unlike more junior staff, your senior people can't necessarily walk into a new job within a couple of weeks, due to long notice periods, and a lack of suitable roles. So, it's well worth trying to compromise.
Initiate frank, one-to-one conversations early with your senior team about solutions which will keep them in the business, but also reduce costs. That could mean reducing their days, keeping them on a consultancy basis, or agreeing temporary salary cuts. You retain their skills, they keep their dignity, plus you have the option of dialling up their involvement again in the future.
"Senior staff can definitely find it harder to bounce back from redundancy," explained one of our founders. "By speaking to them candidly and regularly, we co-opted them into the process, while giving them a platform to communicate to the rest of the team and set a positive example. Some chose to leave anyway, which was their decision, but for others it was a chance to find a way of working that suited them better."
Rediscover bootstrapping
Easy access to funds in the last few years has bred a culture of speed over sustainability when it comes to growth. But with future funding timescales thrown into doubt, it's time to rediscover the bootstrap mentality, by keeping a laser focus on burn rate and the drivers of core revenues and profitability.
Serial entrepreneur, Patrick Borre, Founding CEO at Billetto, the leading Nordic self-service ticketing platform, argues that startups should always be in bootstrap mode: "We've seen lots of startups raising too much money and spending too much money in recent years. But, as a founder, if you need macro-economics to tell you that you're spending too much, then you're already doing something wrong."
"Cut out experimentation, focus on the channels you know work, and focus on your really profitable customers," advises Jatania. "We decided to be laser focussed on scaling users' engagement with our core product, which we knew was profitable instead of experimenting with new products. As a result, we redirected our product roadmap towards finding operating efficiencies, such as customer self-service and automation for operational processes. These have helped to cut costs in the short term, while also meaning we need fewer new hires as the business scales."
Look forensically at every area of your cash flow; not only where you can reduce costs, but also where you can increase your prices without harming sales, or whether you can ask for prepayments, to get the revenue in sooner. Another possible lever is HMRC, which will usually let you delay or stagger tax payments if you explain that you're having cash flow issues.
Now is also the time to renegotiate suppliers, including looking at office space expenditure, particularly as remote, hybrid and co-working are so popular now anyway. Your suppliers would rather keep you as a customer, than see you go under and lose you altogether, so be honest and open with them and use it as an opportunity to drive a hard bargain.
Lose staff, keep headcount?
If there is no alternative to cutting people costs, can you at least retain headcount by shifting part of your operations elsewhere? Labour costs can vary hugely from city to city, and around the world so, while you don't avoid redundancies, it means that your business retains the same capabilities, which benefits the remaining team – and of course the business.

For example, Pockit complemented its team in London with a number of hires in Newcastle, where salaries are as much as half the cost, and rents are cheaper. This enabled the company to extend its runway, with no detrimental impact to the functioning of the business.
An opportunity in chaos?
You've tried everything and still can't avoid redundancies? Then don't beat yourself up about it. It is part of running a business, and, if you are transparent and truthful from the get-go, and support people to transition out of the business, you'll be surprised how well most staff take it, and you should avoid becoming a redundancy horror story.
For some CEOs, it can also be a blessing in disguise. If you've scaled too fast and have an overly bloated workforce, it can be a timely excuse to cut non-essential staff, reset the business, and galvanise the team. It ultimately forces you to focus on what's really important.