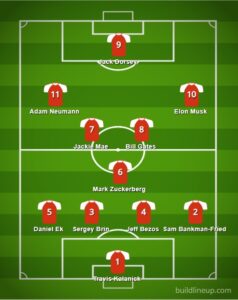 Opinion 16.11.2022
The World Select XI of Entrepreneurs
The countdown is on for the 2022 World Cup when the spotlight will turn on the teams and players of arguably the world's greatest sporting event. Which team will prevail? Who will crash out early? Will the current stars live up to the hype? Or will they be eclipsed by the new generation? The pressure is on, and a combination of hard work, talent, and the ability to perform on the ultimate stage will dictate who emerges victorious.
In many ways, top footballers are like top entrepreneurs; both occupy the dizzy heights of superstardom. Highly paid, scrutinized by the media, and idolized by fans, both have beaten the odds to make it to the top, yet constantly walk a fine line between success and failure. Building a company is much like building a football team, with tactics, strategy, and mentality at play. And just like the superstars of football, no founder can succeed without a strong team around them – including the numerous support staff and stakeholders who sit on the sidelines (VCs!)
So, in anticipation of the World Cup 2022, which 11 superstar entrepreneurs have what it takes to make it into the World Select XI?
Experience, raw talent, and flair
Instead of footballing superstars, such as Ronaldo, Messi, and Mbappe, we're lining up with the likes of Bezos, Zuckerberg, and Musk, in a traditional 4-3-3 formation. Solid through the spine, with some added flair and creativity on the wings and upfront, we have opted for a mix of raw talent and experience. Although the older generation, the Buffets, and the Bransons, have been dropped for this campaign, deemed too old school for the new innovative playing style.
Just like the best football teams, we've opted for some mavericks and surprise inclusions, to mix things up and keep the opposition on their toes. Will the gamble pay off? The major question mark is over discipline. Will this team be able to maintain their focus, on and off the pitch, for the duration of the campaign? Foul play and dirty tactics will be punished, and the authorities are keeping a close eye on serial offenders. Any red cards could mean you're on the next flight home.
Team Selection
Travis Kalanick, Goalkeeper
Known for his challenging attitude, he's unplayable on his day. Sacked by his previous team, his 'enfant terrible' reputation is sure to intimidate the opposition, and he'll be hard to beat from the spot, which bodes well for penalty shootouts. Strikers beware!
Sam Bankman-Fried, Fullback
He's a controversial inclusion in the XI but an immaculate talent nonetheless, with extensive experience in emerging markets. His high-risk playing style is known for stretching the limits and he may have gone too far, as he is currently under investigation for disciplinary reasons, pending suspension. Will he make a miraculous comeback at the tournament?
Sergey Brin, Center-half
Known for getting stuck in, he's a workhorse of the team who knows how to neutralize the opposition. He's sometimes accused of anti-football, but you can't deny his success, the (search) results speak for themselves. Accusations of match-fixing have tarnished his reputation in recent years, but memories are short, and he has become indispensable.
Jeff Bezos, Center-half
Highly experienced, his ruthless approach and peerless execution has made him a serial winner. An expert at parking the bus, he knows how to frustrate attackers, and his 'Amazon-like' tackling is feared around the world. He can also be a visionary playmaker who won't hesitate to exploit gaps in the opposition's defenses.
Daniel Ek, Fullback
Providing a counterbalance to the more unpredictable members of the team, Ek is the perfect Steady Eddie. Consistent and reliable, he's like the Volvo of the startup world. He isn't afraid of booting it into row Z (you can't score from there!), but management are confident they can get a tune out of him on the big stage.
Marc Zuckerberg, Midfielder
He's a well-known face, some might even say overexposed. But in a holding role he is second to none, and certainly knows how to overcome adversity and stay in control of the game. Recently changed his playing style and is sticking to his guns, but will the investment come to fruition? Only time will tell.
Jack Ma, Midfielder
Lesser known in Europe, this huge Chinese star was a trailblazer of the Asian game. An industrious and versatile midfielder, he can float across numerous positions with ease, and always puts the team first. Fleetfooted, defenders are regularly caught off guard by his fast stepovers. He's also been known to pull off a perfect Great Panenka from the spot.
Bill Gates, Midfielder and Skipper
A World Cup veteran, Gate's unrivaled experience makes him the ideal skipper for the team. His teammates see him as the gaffer on the pitch and his Word carries a lot of weight. Operating box-to-box, he covers most areas and Excels in big tournaments. For him, this is just another day in the Office.
Jack Dorsey, Center-forward
He might be widely regarded as a fox in the box, but he isn't an out-and-out no 9, more a false nine, and a huge threat on the counterattack. Great interplay with Musk, the two have an understanding, on and off the pitch. He's a poacher who regularly finds the back of the net. Could he be a contender for the golden boot this year?
Elon Musk, Winger
A media favorite, but has he become bigger than the team? Highly confident, bordering on arrogant, self-proclaimed GOAT. He's made plenty of howlers in his time, but on his day he's electric – out of this world. He's had a busy season though, with lots of commitments, let's see if he can maintain his edge.
Adam Neumann, Winger
A surprise inclusion to this year's squad, due to well-reported disciplinary problems in his last campaign. But few would deny his potential, and he's sure to unnerve the opposition while delighting the fans with a few bicycle kicks and screamers. The question is whether he can control his mercurial temperament enough to be an asset rather than a liability.
Bench
Elisabeth Holmes
She's shown glimpses of her potential, but major disciplinary issues mean she could be sidelined indefinitely. Although, few would argue that she's gone through blood, sweat and tears in her career so far.
Patrick & John Collison
Youthful additions to the squad that could be brought on as super-subs to add some fresh legs and late speed. Tactically useful. Need to earn their stripes
Oliver Samwer
His highly aggressive playing style divides opinion, but he's developed like a rocket in the last few years. An expert at adopting other players' tricks and skills, but he does it with flair and there's no denying his success. Will this mark his arrival on the world stage?
Management and coaching staff
Marc Andreessen – Manager
A strong believer in systems and tactics, he knows how to get the best out of his players. He's a big proponent of heavy metal football, which is sure to keep fans on the edge of their seats, although he's not afraid to park the bus when necessary. Admired on and off the pitch for his track record supporting up-and-coming talent.
Mike Moritz – Assistant Coach
Highly experienced, he won't be phased by the pressure of the big stage. He's a great communicator, although not afraid of dishing out the hairdryer treatment at half-time. Having worked with one of the legends of the game, Sir Alex Ferguson, can we expect some late Fergie-time goals?
Masayoshi Son – Director of Football
He's intent on world domination, but many think he's taking too many risks, and building too fast. Some questionable recruitment decisions have proven costly, and there are plenty of lessons to take into the next campaign (if he survives that long).
Back of the net – or own goal?
If ever there was a team of Galactico entrepreneurs, then this is it. Like all the best teams, the World Select XI contains a diverse mix of personalities, skills, and styles of play – able to switch seamlessly from Total Football to Tiki-taka. They've all been successful in different paths, boasting a balance of raw talent and experienced brains. On paper, they look like a force to be reckoned with, with the capacity to solve any challenge opposition teams throw at them.
But as always, it's how the team gels on the pitch that will determine their success. Will the manager control the mix of egos, and bring them together for the duration of the tournament? Will morale withstand the media scrutiny and inevitable criticism of performing in front of billions? Will the controversial inclusions pay off? Only time will tell. But one thing's for sure – in the world of business, like in football, 'it isn't life and death… it's more important than that'.