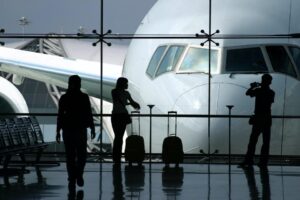 Opinion 14.02.2022
The Tech Trends Driving A Much-Needed Travel Sector Transformation
Tech innovation in the travel sector has always been uneven. While some aspects of the travel experience have been greatly enhanced by technology in recent times, these innovations have had to co-exist alongside clunky manual processes that have barely changed for 40 years.
Now, however, the pandemic has given the travel sector a severe stress test. Not only have passenger volumes fallen off a cliff since the arrival of Covid-19, but the passenger experience has been pushed back decades due to the added bureaucracy and hassle of tests, checks, locator forms, quarantines and more.
These setbacks have brought into focus those aspects of overseas travel that are no longer fit for purpose, and a host of startups are already developing more convenient, frictionless travel experiences to entice the public back out into the wider world as the Covid situation eases. It could be just the shake-up that the sector needs.
A pathway to contactless travel
The pandemic has emphasized the sheer amount of human contact involved in international travel and led to sweeping changes in how accommodation providers operate.
According to James Jenkins-Yates, CEO of Airbnb management provider Houst (formerly Airsorted), "Keeping everyone as safe as possible has been our priority during this period, and we've succeeded in making sure some of the most crucial processes are handled in a Covid-secure manner. Our guests are always able to check themselves safely into properties. According to a recent Airbnb survey, this is now the preferred option for the vast majority of guests, so our goal is to ensure there's no need to meet anyone before, during or after the stay."
However, the problem of unnecessary human contact remains particularly acute within airports. Checking in baggage is convoluted and time-consuming. Repeated identity checks become particularly frustrating when you find the person in front of you hasn't filled in their paperwork. This is made worse in the age of Covid due to the many different statutory checks required by different airlines, departure and arrival destinations.
These archaic systems persist for two reasons. Firstly, travel companies are trying to do too much within the airport terminal itself. Secondly, too much passenger data is tied up within siloed systems, which is why it constantly needs manually re-checking.
However, we're now seeing that many of these processes can be automated through pre-processing and data verification, with zero impact on the underlying security of operations.
Companies such as Zamna are developing ways to verify the identity, travel details, and even the health of passengers before they leave home. These technologies apply blockchain technology to digitally verify and connect siloed passenger data sets between airlines, governments and security agencies so that, once within the airport, all parties know who is who and who is travelling where.
Remote check-in and baggage collection services such as Airportr or DUBZ have also become more common in recent years, removing pressure from the check-in desks. However, services are still expensive and are currently used by a small minority of total travelers. The next challenge for startups is to find ways to bring down the cost of these services and make them more accessible/desirable to all passengers.
Solving the calamity of car hire
After a lengthy flight and protracted security process, the last thing weary passengers want is to waste half an hour filling in car hire forms they already completed online several weeks earlier. Yet even in our digital age, the last leg of the car hire journey remains unnecessarily painful.
To solve this problem, Paris-based startup Virtuo has streamlined and digitized the car hire process so that everything is arranged through an app, including the delivery of the car to the arrivals bay. Virtual keys are used to operate the vehicles, making for an entirely contactless, queue-free experience. Audi has launched a similar proposition, Silvercar, to provide premium vehicles to customers across more than 10 US states, again offering contactless booking via a simple app, with cars delivered to the customer's location.
Elsewhere in the space, Getaround and Turo have been pushing peer-to-peer car rental in the US for more than a decade, and the pandemic has sparked a new wave of demand for these services.
Much-needed distruption management
One of the most challenging aspects of the pandemic has been the continuous changing, rearranging or cancelling of travel plans. Again, however, this is nothing new. A delayed flight or a cancellation has always caused significant problems for airlines, not to mention their unhappy customers.
Hence, it's no surprise to see a variety of recent market entrants devising innovative ways to smooth out some of the issues caused by disrupted travel.
For example, Sparefare has created a marketplace for customers to buy or sell unwanted tickets, avoiding the need for passengers to subject themselves to lengthy refund/voucher request processes. Journera allows travel providers to get ahead of the game in the event of cancellations or delays, identifying affected passengers and allowing customer service agents to better accommodate their needs through any disruptions and transitions. And Pilota enables customers to compare flights based on their reliability and provides airlines with AI-powered predictions about how each flight will go.
Serial entrepreneur and investor Karen Hanton, founder of pet-friendly travel provider PetsPyjamas, explains, "We've all had to be so resourceful during the pandemic, that as we emerge the other side, we're prioritizing flexibility across practically all aspects of life. Consequently, travel companies have had to abandon their pre-Covid conventions – they know that if they don't have flexibility baked into their offering, people are far less likely to book with them."
Travel insurance without the caveats
The prospect of overseas travel disruption always makes passengers nervous, which is why travel insurance has become such big business over the past few decades. Unfortunately, however, too many providers have failed to deliver on their protective promises, making the claims process difficult and long-winded, or inserting hidden caveats into policies to avoid paying out around many common types of disruption.
The issue reached a head during the pandemic when it was revealed that practically none of the insurers' policies provided Covid-appropriate cover, and the startup community has duly taken note of passengers' growing distrust with traditional providers.
UK-based Blink now offers bespoke flight disruption insurance, giving customers a range of suitable options according to the specific nature and duration of the disruption – from airport lounge access to hotel rooms to cash claims. French company Koala has lowered the burden of proof for disrupted passengers, making it easier for them to establish their claim eligibility and thus ensure that 100% of passengers entitled to compensation are compensated.
Moving to a decentralized future
The global travel sector has always relied on intermediaries, from the high street travel agencies of 20 years ago to today's online booking platforms. Perhaps the biggest sector-wide shift that we're likely to see in the coming years is unnecessary middlemen being cut out of the chain to bring down the cost of supply.
Again, blockchain is the technology in making this possible, and several startups are already building blockchain-based infrastructure to better connect travel providers. For example, Further can enable P2P transactions such as bookings and payments directly between airlines and their business partners. Winding Tree allows airlines and hotels to distribute their products to travel agents directly. Through its open-source infrastructure, it hopes to drive a new era of industry-wide developer collaboration.
More broadly, Jenkins-Yates argues that it is time for the sector to make a definitive break from the past. "It seems like travel is desperate to get back to the 'old normal', but what really needs to be addressed is that things will never be done the same way they used to be done pre-pandemic. The reason why the future of travel tech is so exciting is because we have been brought face-to-face with the true limitations of the old travel regime."
If such bold and sweeping initiatives – like those we're currently seeing through blockchain applications – prove successful, who knows what additional travel trends we may see emerging in years to come. One thing's for sure though – the sector is finally seeing the sort of tech-driven innovation it needs to propel a sustainable, long-term recovery.