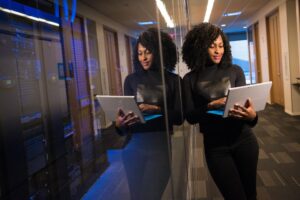 Opinion 18.12.2019
The Startup War for Talent: Are returnships part of the solution?
Kjartan Rist for Forbes
There is a war for talent out there, particularly amongst tech-focused startups, which are struggling to find the high-quality and diverse digital skills they need to grow. With U.K. unemployment at its lowest level since the 1970s, figures show that one in three London startups are suffering from a shortage of tech talent, while 30% say their growth has been hampered as a result of not being able to hire the right employees.
Yet, there is one huge source of untapped talent, which continues to be ignored by the majority of startups. According to the Office for National Statistics, 1.8 million U.K. women (and 0.2 million men) are not in paid employment as they are looking after family. Many of these individuals are extremely highly qualified, having previously held skilled and senior roles in the workplace, and a huge number are desperate to relaunch their careers. However, after a year or more out of the job market, returners can feel out of touch, left behind, and be overlooked due to a lack of recent experience.
Returnships are a solution that has come to the fore, giving returners a stepping-stone back into the workplace, with the help of mentoring, coaching and training—much like an internship does for graduates or school-leavers. Introduced successfully at a number of large organizations, such as IBM, Johnson & Johnson and Santander, they can be a win-win, giving employers access to a pool of talent to plug skills gaps, while helping returners get their careers back on track.
But could returnships be a viable solution for startups?
An overlooked source of talent
While returnships have been growing in popularity amongst larger companies, there is a perception that they would be too time-consuming for fast-paced startups, or that returners wouldn't fit easily into the startup culture. Louize Clarke, founder of Digital Gum, a program that equips returners with digital skills, has found that this is a common view amongst fast-growth businesses.
"I've largely struggled to get startups to consider relaunchers," she says. "The reality is that startup life is tough with long hours and the reality of "hustle culture" means often working at an incredibly fast, pressured pace. With investors demanding returns on investment, fast, the perception is they need to hire 'hit the ground running', A-player candidates. I haven't seen attitudes change much over the last three years."
A valuable investment
However, Clarke believes that this attitude is counterintuitive, considering that startups frequently hire "cost-effective" talent such as students and interns, who also need additional support. The difference with returners is that they bring years of leadership, multi-tasking, time and organizational management experience with them, and can often hit the ground running faster as a result.
"The reality is they could bring in an experienced returner hire who will bring a new dimension in return for flexibility," she says. "Because returners tend to be women there's the opportunity to access great experience and softer skillsets."
Lemarc Thomas, CEO, and gounder of Lemarc Thomas, a Stockholm-based matchmaking startup, which has recently started offering returnships, agrees that returners are a fantastic source of talent when budgets are limited.
"For me, the biggest benefit is being able to bring in new talent, energy, skills, and experience earlier than I normally could, in terms of the financial commitment. The candidate helps bring the business to a place where we can take the commitment of full-time employment–they create a job for themselves. This way it really feels like a mutual investment which helps build a strong relationship."
With women currently making up just 34% of startup employees, and significantly fewer in leadership, founder, or equity ownership positions, returnships can also help to boost diversity—an issue that is seen as increasingly important for business success. Numerous studies show that diversity can help with creativity and innovation, plus returnships help to boost employer brand and widen the appeal of startups in general, aiding long-term hiring and talent retention.
 A new challenge for returners
On the flip side, startups have the potential to offer genuinely stimulating work to returners that doesn't feel like they're taking a step backwards. Laura Pappi, head of customer support at London fintech startup HyperJar, which has hired a number of returners on a remote basis, says that this is a big advantage.
"Fintech is an intellectually challenging industry and our product is full of world-first tech, so there's plenty of mental stimulation," she says. "The team has to get to grips with this, learn about new product features arriving every week, and then work out how to communicate this to our members who contact us with questions."
How can startups make returnships work?
Despite the myth of long hours and burnt out founders, young tech companies are, in many cases, a step ahead when it comes to the factors that make for a successful returnship, including flexibility, remote working, and the tools required to facilitate these.
As a result, startups can arguably better accommodate the needs of returners than larger companies. "An attraction for everyone who works in fintech is the attitude to flexible working, so returners can feel a lot less like outliers than they might in established industries," says Pappi.
Aside from flexibility, the main investment is time, from both the founders and current team to bridge the knowledge gap that can exist. However, Pappi believes that this is another area where startups have an advantage, as everybody in a startup environment is on a constant learning curve.
"An advantage for our returners is that, as a start-up, we're all learning and adapting fast, and together," she says. "Very few things are fixed, new perspectives and different experiences are highly valued. So apart from a pretty intensive training period on the product itself, everyone in the business is learning at the same pace."
Government support
Considering the huge socio-economic benefits for society—PwC found that bringing women back to work after a career break would generate an extra £1.7 billion for the U.K. economy—there is also an important role for the government to play in supporting businesses looking to introduce returnships.
Scandinavian countries are leading the way in this respect, for example, in Denmark, the returnship rate is 85% due to workplace flexibility, subsidized childcare, and an ingrained culture and mentality. It is a similar situation in Sweden, according to Thomas, where both government support and culture are key, with parenthood normalized to the point where new parents frequently take their babies to meetings and events.
"Government support makes it easier to hire people who have been unemployed – the government can pay up to two-thirds of the salary," he says. "For parents in Sweden, both parents usually take full parental leave, and both usually return to work. Government helps parents stay in work, but culture also helps."
The U.K. Government–and those elsewhere—should, therefore, take note, and consider incentivizing businesses, including startups, to offer more support to returning parents.
"There's plenty more the government can do, especially around apprenticeships," says Clarke. "There should be a drive to make apprenticeships available a broader age demographic – this could be a great way to bring in relauncher talent. National Insurance holidays would also be attractive to startup employers who are taking what is a perceived risk in hiring."
Childcare is another important area, which is currently not working as well as it could, according to Pappi. "We hear regularly that the tax credit system for childcare is overly complex and opaque. There needs to be much more publicity about how to access it, as well as the income thresholds and the different options available," she says.
A new approach to recruitment
Returnships might sound like a big commitment but, even without government support, they could require less time and financial investment than most startups realize, offering the flexibility to build a program that best meets your business's needs and capabilities.
With skills shortages at such desperate levels, startups are investing hugely in recruitment costs anyway, so offering returnships could even mean the business saves money in the long run. Plus, the value you get back in terms of skills, experience, and fresh ideas to grow will far outweigh any initial outlay.