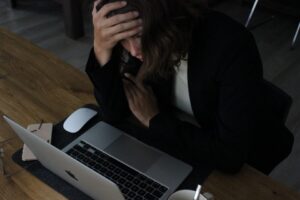 Opinion 28.01.2022
The Entrepreneurship Journey – When The Romance Ends
Entrepreneurs are fast becoming the superstars of our era. Jeff Bezos, Elon Musk and Bill Gates are household names and command the same attention as Hollywood celebrities, while Steve Jobs has become even more of a cultural icon in the years following his death.
These entrepreneurial titans are held in high regard both for the wealth they've generated and the step-changes in innovation enabled by their visionary approach to technology. Moreover, their stories have helped forge the current narrative around entrepreneurship and the rich possibilities of 'going it alone', inspiring millions of young people to pursue the entrepreneurial path rather than the conventional corporate career. Now, with the emergence of the YOLO economy, entrepreneurship is increasingly viewed as the best way to make money, make a difference and live life to the fullest.
Unfortunately, however, this view of the entrepreneurial journey is idealized and over-simplistic. Building great companies and developing game-changing products is hard. For all the much-publicized success stories, there are many more failures as the romance of entrepreneurship gives way to reality. So, what do prospective entrepreneurs really need to know before they take the plunge?
Becoming an entrepreneur isn't for everyone
Entrepreneurial success may eventually bring fame and fortune, but before then, most founders face many years of hard work, long hours and little recognition on the path to building a winning business.
"When someone sells their company for billions of dollars or IPOs, the way the story is told makes it sound like a walk in the park," notes Anders Ibsen, Co-Founder of no-code website building platform Cobiro. "In reality, the spirit of an entrepreneur is defined by doing what you do and continuing to do it for a decade or more. The moment you realize you have a potential product/market fit is also the moment you realize you're embarking on one of the most difficult challenges of your life."
Anyone can become an entrepreneur – this is not a myth. Founders come from all walks of life, from many different backgrounds and demographics. However, successful founders tend to exhibit specific characteristics. Our research shows that traits such as 'resilience and energy' rank just as highly as the 'ability to convince/sell', while 'self-reflection' is up there alongside 'ambition and motivation' in determining whether aspiring entrepreneurs end up going the distance.
Of course, self-reflection is often aligned with experience. Many who choose the path of entrepreneurship are young, first-time founders yet to cut their teeth in the business world or build up support networks capable of providing external guidance and perspective. "Most successful founders are in their forties rather than their early twenties," Ibsen adds. "While you might not have the same level of energy, you will be better able to navigate for the long run simply because of the experience you have from life. Successful entrepreneurship is about persistence, and knowing that tech grows exponentially. 10 years seems like an eternity when you're in your twenties."
Being an entrepreneur requires a lot of determination, an ongoing willingness to learn, and the recognition that sacrifices will be needed along the way. Even then, success is far from guaranteed. Luck almost always plays a part in how the journey unfolds.
Struggles are inevitable in every direction
Entrepreneurs constantly encounter new situations and circumstances, many of which they won't have faced before. From product and market challenges to leadership and hiring issues, supplier problems and funding difficulties, being a founder involves constant 'fire-fighting' simply to stay in the game.
"As a founder, you are accountable for everything that happens in your business – potentially including 100s of employees," explains Ibsen. "Investors will be calling you each quarter for an update, and you have to show up. If you don't like the thought of this, you should probably reconsider your dream because, more often than not, this is the reality of the role."
Many entrepreneurs choose to partner up with friends or peers to share the load. But while the right partnership at the top can certainly improve a company's chances of success, in fact, two-thirds of startups end up failing due to conflicts between co-founders.
On the flip side, sole founders are more likely to experience loneliness, self-doubt, and a range of other wellbeing concerns. The pressure can be relentless, and there's also the widespread problem of burnout, as entrepreneurs sacrifice their work/life balance to solve urgent customer issues, ready product updates for launch, or get funding rounds over the line.
"Setting up a business is incredibly difficult, and the odds are stacked against you in terms of making it successful," notes Virraj Jatania, CEO of alternative digital banking provider Pockit. "Not only that, but as a sole founder, no one has the same attachment to the business as you do. When things go wrong, no one else feels it in the same way. I rely on strong family support, a great board and an excellent management team to share the burden with me, so it is not an entirely solo experience."
Many entrepreneurs fail for other reasons, like running out of capital. A founder's financial skills will be put to the test from the off, and they have to make their initial investments count, as early errors in their growth strategy can quickly derail the business. According to Patrick Borre, Co-Founder of ticketing platform Billetto. "If you're venture-backed, your job role has to be growth-oriented, first and foremost. However, many entrepreneurs try and take the quickest possible route to growth, and this can lead to premature scaling before they've found product/market fit. It's a constant challenge trying to grow your organization without overreaching."
Rising to the challenge
Whatever the nature of the latest problem, entrepreneurs need to remain calm and solutions-oriented. The ability to prioritize effectively when problems are emerging left, right and centre is an invaluable leadership skill – not just for keeping a startup on track but for reassuring employees and investors. No one wants to feel as though a few bad weeks of business might put their job in jeopardy, so founders have to support their teams in getting through tricky situations, staying pragmatic and positive, and crucially, avoiding drama.
"It's a good idea to have other things in your life that can distract you from the stress of running the business day to day," adds Jatania. "It might be sports, meditation, yoga, being involved with a charity or some other hobby. If it distracts you for a few hours a week, it is well worthwhile, and will help you to be a better leader."
Above all else, founders need to know when to seek help. The entrepreneur might be the hero of the story, but every hero narrative features a cast of supporting characters – in this case, colleagues, peers, trusted advisors, investors and others – who can help them prepare for and overcome the inevitable hurdles, bottlenecks and personal challenges they'll encounter on their journey.
For example, investors must acknowledge that the most important aspect of an investment is the founder. It's in their interests to keep a close watch on how founders are coping and spot any warning signs early. Ultimately, the investor's role is to enable entrepreneurs to grow and build successful companies. Today, this also needs to include training and coaching to help founders cope with the mental aspects of their job.
Coping when the music stops
Although not widely known, there are many examples of entrepreneurs who have suffered severe stress and mental issues over their careers. In some cases, such as Anthony Bourdain and Kate Spade, the journey has ended in tragedy.
Entrepreneurs, like sports stars, are attempting to push the limits of human potential. The stakes are incredibly high, and these are normal people – not superheroes – who are equally susceptible to the same wellbeing challenges as the rest of us. Romanticizing entrepreneurship and putting entrepreneurs on a pedestal only adds to the pressure to succeed, when in reality, all founders will experience failure at some stage.
"In my opinion there's nothing worse than not trying," argues Jatania. "But in the UK and Europe right now, we really don't acknowledge and accept the idea of entrepreneurs failing in the same way that people do in the US."
This is one area where the European startup ecosystem needs to develop. We need to communicate that the outcome of entrepreneurship is not always rosy and that it's important that founders have a wider support network in place should the music stop.
Equally, however, it's important to remember that failures can generate valuable learnings that can be utilized in another setting – allowing entrepreneurs to gain experience, upskill and develop an even thicker skin.
Realism over romanticism
The pandemic has stress-tested most industries and exposed frailties across all value chains that can be addressed with technology-driven solutions. There's a pressing need for entrepreneurs with a clear vision for enacting this change.
But while anyone can be an entrepreneur, not everyone is well-suited to it. What's more, all entrepreneurs need support and guidance on their journey to avoid ending up in a situation where they cannot continue. Even with this guidance, entrepreneurship won't always enjoy a fairy-tale ending. It is a difficult path to follow, filled with pitfalls and uncertainties.
And yet, there has never been a better time to start a company. Startup costs continue to go down due to the availability of the cloud, ease of access to development tools and more open-source knowledge. The venture ecosystem has also matured. Investors today are attuned to the typical problems entrepreneurs face and better equipped to support them through these challenges.
Only by painting a more honest picture of entrepreneurialism can we ensure that founders truly understand the task ahead of them, and ensure commitment to their cause for the right reasons. After all, as Borre concludes, "Many entrepreneurs start with a clear mission and then get caught up in the valuation game and the pursuit of a big payoff. If you're thinking of founding a business, it's because you want to create something. So whatever happens on the journey, never forget why you're doing this."