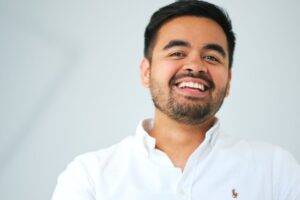 Listen 18.02.2022
Talking 'Opportunity Spotting and Speaking Up' with Alex Stroud, Associate at Concentric
To mark the launch of Concentric's new branding and website, we're catching up with each member of the team about their individual journeys in venture capital and the secrets to success. Here's Associate Alex Stroud, discussing the importance of networks and knowledge-sharing, and why diverse teams can be invaluable when seeking out overlooked investment opportunities…
Walk us through your career to date. Were you always interested in a career in VC?
No, not at all. My University course was heavy on traditional finance, and most of my peers went into banking and asset management. Having enjoyed a couple of internships with HSBC, I followed a similar path, but I quickly realised that this world wasn't for me. Fortunately, a friend of mine flagged an opportunity at Applied Predictive Technologies, a mature and well-funded startup – my first foray into the startup world.
At Applied Predictive Technologies, my role was to bring EMEA clients on a journey to truly data-driven decision making, using our software to gather, clean and analyse data. It gave me fantastic experience both in managing clients and selling software.
When the business was sold to Mastercard, I suddenly found myself back in a financial behemoth. I managed to navigate my way into the company's social impact accelerator, becoming the data lead on the inaugural cohort of early-stage startups. This gave me my first exposure to working with founders. I loved the experience and began researching VC as a career option, speaking to various people in the industry and ultimately applying to Concentric.
What was it that intrigued you about Concentric?
I was still quite naïve to the venture world at the time, but my early conversations with the team sold me on the company's vision and how a role at Concentric might differ from the conventional VC path.
As I did my research, I recognised that if I wanted to join the venture world, my choices were to join a big brand name as a junior with a narrow remit, to join a specialist fund – for example, focused by geography or vertical – or to find a younger VC firm where I could gain exposure across the entire business.
Concentric was a riskier option than going for an established fund, but it allowed me to gain a much broader experience base – finding companies, attending events, figuring out my style of investing, setting up internal operational and recruitment processes, and of course, leaning in and helping our portfolio founders on projects.
Personality-wise, how do you fit into the Concentric team?
I'm quite a collaborative person and a team player, probably due to the amount of sport I played while growing up. Wherever I go, I strive to form relationships, and this has been very helpful as I've gained experience in the European venture ecosystem. I try not to see the VC world in terms of competition. My peers and I tend to discuss opportunities, the possibility to collaborate, the excitement of it all. We're not trying to win against each other.
I bring a lot of energy to our team. I always want to get stuck right in, and I think Alex Mann and I work well together. He has a very clear view of what he wants to work on – for example, space or crypto – whereas, being a few years earlier in my VC journey, I try to keep an open mind to all opportunities.
And what do you find most motivating about your role?
Money isn't a motivating factor for me, so it's odd that I've found myself in a job that has 'capital' in the title! But capital is so powerful, and being a gatekeeper to it comes with a huge amount of responsibility. I'm inspired every day by the founders that I meet, and I try as much as possible to invest in those who are operating at the tech frontier, pushing society forward and ultimately having a positive impact on people's lives.
The updated Concentric branding is centred around the philosophy of 'united by difference'. Why is this important for venture investing?
If you look at our team, everyone is very different. It's a very random mix of people – by nationality, personality, background – and a notable contrast to the European investment stereotype of pale, male and stale former bankers!
Great companies – and great VC returns – can come from anywhere these days. If you have a team of people from the same background, with the same training and thought patterns, you will inevitably struggle to spot new business models, emerging market opportunities and new problems being solved. You're not moving in the right circles to pick up on these trends, let alone understand the potential of the businesses making waves.
Further, all VCs try to pattern-match based on historically successful outcomes. Add FOMO to the mix, and you end up with investment that's no longer based on fundamentals. It takes real effort to get over biases, think differently and have the conviction to act on these thoughts. That's what we mean by 'United by difference'.
We're more likely to identify diverse founders if we're moving in the same circles, and it's easier to build relationships and be empathetic if someone on the team has shared experiences. Our approach enables us to help these talented 'overlooked' founders get the support and network access they need to thrive.
What are the biggest learnings from your time in the industry thus far?
Firstly, the need to always speak up. In a big multinational, you're judged on executional ability rather than initiative and creativity. But in our industry, things are moving so fast, and the industries we support are moving even faster. Challenging the status quo tends to be rewarded.
Relatively early on, I started to recognise that in certain categories – like gaming – I had a better-informed perspective than my team colleagues because of my age, profile and experience. But of course, to make this count, I had to be prepared to take the plunge and air my views.
Another learning I've taken from my time in the venture ecosystem is that, unlike some of my previous roles, I can't just sit at my desk reading research reports. I saw a quote that resonated with me on this point: "Hard work doesn't correlate with successful outcomes in venture." It's not to say that VCs don't work hard, but rather, that traditional desk-based working – however intense or relentless – only goes so far. Networks and connections still matter a great deal, as does the attitude of being in it to help people. Even if we can't invest in a company yet, we may still be able to provide some valuable connections.
What excites you most about the new Concentric Fund?
I joined Concentric just as Fund 01 was fully deployed. In the time since, we've been scrapping away, supporting our portfolio through the pandemic and completing a few opportunistic deals. With the launch of Fund 02, I'm looking forward to increasing our deal pace and working with the next cohort of founders.
It's a great time to be investing in early-stage businesses. The prospect of raised interest rates has caused widespread concern about later stage businesses' ability to meet their growth targets. Growth companies will struggle if the public markets aren't doing well, particularly those that have already raised vast sums of money. However, there are always fundamental problems in society that need to be solved, and fortunately, our next cohort of businesses should mature as the market recovers.
Are there any technologies or trends that particularly interest you right now?
As I mentioned before, gaming is a fascinating space. I built out our gaming thesis recently, and midway through the process, Facebook announced its metaverse plans, which have given the entire industry food for thought.
As I see it, four core verticals are emerging within gaming – content production, eSports, metaverse infrastructure, and finally, the mirror world, where gaming mechanics and engines are applied to real-world scenarios. I see great potential in the latter vertical. Gaming and entertainment is the proving ground, but this technology will eventually spill over into education, crisis simulation, urban planning, and suchlike.
And of course, there's crypto and the ongoing attempt to rebadge it as Web3. The move away from centralised gatekeepers to content owned and produced by the people and orchestrated with tokens requires a tremendous amount of infrastructure. This is where we're likely to focus at Concentric, identifying the infrastructure builds that will see longer-term growth and returns.
You've been involved in various mentoring schemes throughout your career to date. Why is this important to you, and what have you learnt from your experiences?
I was brought up in a very close community, which has influenced my whole career. I don't want to be a soulless investor in it for financial gain. It's a privilege to do what I do. I recognise this and have a sense of responsibility to share my learnings and help anyone interested in learning about this stuff.
Also, my generation is particularly susceptible to the culture of instant gratification, so part of my mentorship approach is helping people think beyond instant rewards – money, promotions etc. – and make smarter, more sustainable career choices.
Do you have any tips for founders looking to get started on their VC funding journey?
Entrepreneurship has become glamorised, but in truth, you need a strong reason to do it, especially going down the VC route. It's not easy, it carries stress, and there's a lot of responsibility. The entrepreneur celebrities are not an accurate reflection of the day-to-day reality for most founders.
So you need to decide if it's right for you. And if you're going to do it, speak to as many people as possible – don't just push through by yourself. In the tech world, people are very generous with their time. A founder who asks a good VC for help can save a lot of time and help avoid common mistakes.
Finally, it pays to think about storytelling from the off. Investors are looking to buy into founders, vision, team. So you need a watertight story about why the market opportunity exists, why now, and why you're best placed to meet the opportunity.