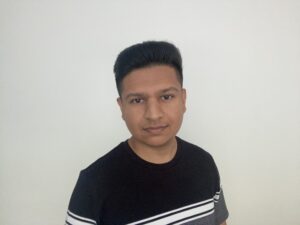 Newsletter 04.10.2022
Talking money management and student recipe apps with Niam Parmar, Financial Controller at Concentric  
We're profiling each member of the team, to find out about their individual journeys in venture capital and secrets to success.Niam Parmar recently joined Concentric as Financial Controller, his first role in VC. We caught up with him about his background as an auditor, why he decided to make the move into venture, and how he built his own promising startup app while on his gap year.
This is your first role in venture capital – what attracted you to work in the sector?
When I decided to find a new position, my original idea was to move into the broader asset management and private equity space, which I gained exposure to in my previous role as an auditor. However, when I researched venture capital, I was attracted to the focus on startups and even though I won't be involved on the investment side, hopefully it will bring some exposure to entrepreneurs and cool businesses. It's exciting to think I could be part of the team that finds the next big thing!
What will your role involve? What will you bring to the business?
My role will be to assist Mark with anything finance related, including compliance, legal and regulatory issues. As this is my first in-house finance role, it's a steep learning curve. I've got a lot to learn about the ins and outs of managing a company's day-to-day finances and Mark has already taught me a lot. In audit, your role is more oversight, focused on regulation and compliance, so you don't get involved in the granular detail.
For my part, I bring a different perspective and understanding of best practice processes and how these should be put in place to aid business growth, while ensuring compliance. As a small company going through a growth period, it's important for Concentric to have the right structure in place from a finance perspective. Auditors are always looking for weaknesses in internal controls, so I can bring this outlook to Concentric, ensuring that we're doing things in the most effective way possible.
How will your role at Concentric differ to working in an accountancy firm? What different challenges will you face?
The biggest difference is size. Concentric is a small team whereas I'm used to working in a firm with hundreds of employees. It's a different culture, it feels much more like a family. Everyone helps and looks out for each other.
The challenge that comes with that is more responsibility. In a big firm you have lots of people above and around you to help you to tackle issues, whereas in a smaller company, you need to think for yourself a lot more. You need to know the business like the back of your hand and be constantly aware of changes in the external environment that could affect it. It means using your brain more, which is a good thing, plus you have more potential to make an impact. It is easier to get your ideas and opinions heard.
You founded a startup on your gap year – what did you learn from that experience?
It was a cooking app aimed at students, with recipes that were suitable for the budget student lifestyle. The idea behind it was that young people don't want to read recipe books anymore, but a recipe app on their phone could be really helpful.
I originally created it on my gap year, as a bit of a hobby, as I wanted something to bulk up my CV. I hired a contractor to build it and asked a friend who is a graphic designer to help. Then it unexpectedly took off and we reached around 1,000 downloads per day at one point!
However, despite our success, in the end I realised that there wasn't really any way to monetise it, because most apps were free to download, and the real trend was to make money from in-app purchases. Plus, most students don't have any money. The app cost quite a lot to maintain and run, so I decided to discontinue it.
But I learned a lot from the experience, particularly about the importance of marketing for getting the word out. From a financial management perspective, I realised that marketing isn't cheap, so we had to be creative to promote the app on a budget. We ran lots of competitions on social media, for example, and tried to set up partnerships with universities.
What do you enjoy most about working in finance?
I like numbers, which I suppose is a given. But I also like to think and understand beyond the numbers, to ask what they mean in a certain context. Accountancy is the language of business; you can't run a successful business without it.
What are the biggest financial mistakes that businesses make?
Given my background as an auditor, I would say not sticking to the rules. Regulations now follow a principles-based approach rather than a rules-based approach. There are a lot of companies that misinterpret them – or choose to!
If you weren't a financial controller, what would be your dream job?
My dream job was always to be a commercial pilot. I've had an interest in aircraft from a young age and had a chance to fly a couple of the simulators that they train pilots on. But there are a couple of drawbacks that meant I didn't go for it. Firstly, as you get older and have a family it isn't really sustainable to be constantly jetting off around the world. Secondly, it's not exactly the cheapest career path, with training courses at the top aviation academies costing over £100K!