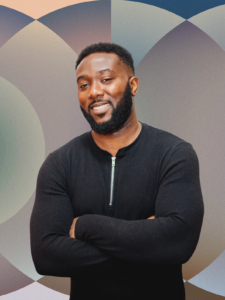 Investments 06.04.2022
Solving supply chain shortcomings and procurement problems with Contingent
Contingent is on a mission to fundamentally change how procurement is done, helping companies improve their processes, reduce risk and transform the efficiency of their supply chains.
Founded in 2020, the company's customer base has been growing at 10x p.a. and includes a wide array of organisations across a surprisingly diverse range of industries – from banking to housebuilding.
We caught up with to Co-Founder and CEO Tai Alegbe to understand why improving supply chain resilience has never been more important, and learn more about his company's ambitious plans for international expansion.
To start with, can you give us an overview of Contingent and why it exists?
As an entrepreneur, one thing that's always resonated with me when looking to grow successful businesses is the importance of getting the supply chain right.
Unfortunately, the supply chains developed in the past don't suit the pace of today's business. Both consumer habits and corporate buying habits have changed beyond recognition. Yet, despite being core to how all companies operate, there's still an incredible amount of friction and risk in how goods and services are procured.
I spent several years working with global corporates and financial services companies, offering consultancy and insight around third-party supply chain risks. And what became apparent was just how many common themes there were across these organisations. This was the catalyst for founding Contingent.
Our mission is to make procurement easy by helping our customers reduce supply chain friction and increase resilience. We've built a suite of easy-to-use and simple-to-setup tools that customers can fit seamlessly into their existing procurement workflows and technology ecosystems, giving procurement teams the insights they need to make better informed, less risky decisions.
Can you elaborate on where exactly this friction is occurring and why?
Companies still spend a vast amount of time and effort manually gathering information on suppliers that is rarely read, let alone used to shape decisions.
These broken processes also prevent procurement teams from spotting risks. They're forced to rely on supplier self-certification and rarely have the time or opportunity to verify suppliers' claims.
What's more, companies don't monitor ongoing developments in their suppliers' operations. At best, they might check in with them for another tick-box exercise every 12 or 24 months.
With a new global supply crisis seeming to strike every year, how are these events impacting interest in Contingent?
Supply chains are becoming ever more interconnected and complex. As we've seen in just the past few weeks – from the situation in Ukraine to the sudden and unexpected lockdown of Shenzhen a few days ago – disruption can emerge out of nowhere, causing supply issues for companies that don't have a firm handle on procurement. We actively help companies through these periods of uncertainty, providing reassurance, oversight and visibility across their supply base, looking for any suppliers in the regions affected by sanctions/policy changes, or global businesses disrupted by the events as they unfold.
However, this is all part of a broader problem, in so far as procurement processes are failing to deliver to organisations' core needs. In a world of cloud-based tools, APIs and plug-ins, the technology underpinning procurement looks distinctly old fashioned and increasingly unfit for purpose, which is the core issue we're looking to address.
Are organisations starting to get wise to the need to de-risk their supply chains?
Absolutely, the near-continuous disruption to global supply chains over the past two years has forced more and more organisations back to the drawing board. They recognise the need to fundamentally rethink how they procure goods and services, not just to save money but to manage risk more effectively and give them a genuine competitive advantage.
What levels of maturity and technical sophistication are you seeing in the market? Is digitisation common?
We're receiving enquiries from a whole swathe of businesses that have never before attempted to tackle the issue of third-party risk, as well as others that are looking to increase the sophistication of their processes in light of ongoing procurement challenges.
Regardless of where an organisation is on its pathway towards supply chain sophistication, we have solutions that can help meet its compliance needs. We're helping banks deal with Op Res/Third-party risk, assisting manufacturers on the road to International Automotive Task Force certification, and supporting food companies with their ESG compliance goals.
Our customers include digital natives such as Monzo and Huel, but increasingly we're working with Fortune 500 companies and established industry leaders – such as Seagate and Barratt Developments – which speaks to a deepening understanding of the value that technology can bring to procurement.
How has life at Contingent changed over the last two years?
We've fully embraced hybrid work. We believe this is the future and we're committed to offering people remote opportunities that allow them to work in the way that best suits them, while maintaining a collegiate feel by enabling people to meet as frequently as they would like.
Striking the right balance requires careful navigation, particularly as we scale – but it's the right direction of travel.
Tell us about your new funding. How much have you raised, how is this money being invested, and do you have any further funding plans?
We've just completed an $8.2m funding round, which takes our total to date to north of $11m and ensures that we're well-funded for the foreseeable future.
The funding will be used to continue building out our suite of modular SaaS applications and accelerating our expansion into the US and across Europe. We're a product-first organisation, and we need to continue focusing on developing market-leading solutions. At the same time, we firmly believe that the way to reach our ambitious goals is by building out a world-class team. So we're going to be rapidly hiring across our product, engineering, and commercial teams in the next few months.
How are you looking to develop your solution in the coming year?
One growing issue we're looking to address is the pressure on organisations to improve ethical standards and sustainability across the procurement process. The reality is that you can't solve specific ESG and sustainability issues without addressing your supply chain as a whole. We see an amazing opportunity to build out tools that allow procurement teams to vet their suppliers more effectively and maintain transparency across all ongoing supplier relationships.
Describe your relationship with Concentric. How have you benefited from their proactive, hands-on approach to VC investing?
We're delighted to have Concentric on board. They're great investors who backed us at an early stage, showing a lot of conviction in what we were building, and they've been able to provide us with plenty of strategic support on our journey to date.
It's also encouraging to see investors like Concentric doubling down on their investment in our latest funding round. It's a positive market signal that all of our early investors have made follow-on investments. While we were spoilt for choice in what proved to be a heavily oversubscribed round, we knew that we wanted to continue working with our early backers.
Finally, looking at the wider technology landscape, where do you see the biggest opportunities and challenges?
Companies are now grappling with cultural changes, both in terms of consumer expectations and higher ethical standards. The ESG agenda traverses all industries and markets, and it's clear that companies are going to start picking partners based on their values, as much as anything else. We're trying to create a new category around this – compliant by design – in recognition of the massive shift in the landscape.
There's also a lot more investment going into digitising the less glamorous side of biz ops. Procurement is an excellent example of this, but the principle applies to other areas of the operational stack. It has been a long time coming, but there's finally a paradigm shift taking place within operations. Companies are putting pressure on their departments to be more efficient and help drive competitive advantage. Being able to source products from the best, near-shore suppliers isn't just a tactical piece for organisations. It can affect the bottom line significantly, which is why it's now a prominent Board agenda item.