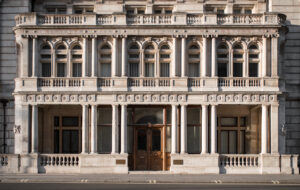 Opinion 30.04.2019
Huckletree & Public launch first gov-tech workspace in Westminster
PUBLIC, a leading venture firm working to help tech startups transform public services, has joined forces with Huckletree, an innovative workspace accelerator, to open a new curated space in the heart of Westminster, bringing together technology, innovation and public services.
At a time when questions abound about how to regulate technology firms like Google and Facebook and how best to support British startups, PUBLIC Hall powered by Huckletree will be the first technology-focused co-working space in the heart of Westminster.
Positioned immediately opposite the Ministry of Defence and a short walk from Downing Street, the 250 member PUBLIC Hall will encourage greater exchange between politicians, civil servants and technologists. It will break down barriers, and will help position London as the global GovTech capital.
PUBLIC Hall will be opening in July 2019, housing startups and innovators and will host regular trailblazing events curated by PUBLIC and Huckletree with public sector officials and startups.
Daniel Korski, CEO and co-founder of PUBLIC, said: "PUBLIC could not be more excited to be launching the first-ever PUBLIC Hall in collaboration with Huckletree. We launched PUBLIC with the aim of bringing technologists and government closer together and providing a physical space in the heart of government where this can happen is the next step in this journey. We can't wait to welcome entrepreneurs, public servants, MPs and ministers through the doors of PUBLIC Hall this summer."
Gabriela Hersham, CEO and co-founder of Huckletree, said:"The potential for disruption in the UK public sector is significant and exciting, and we feel very strongly that this will have a transformative impact on entrepreneurs here and abroad. We are hugely inspired by PUBLIC's commitment to this vision and are proud to play a role in bringing further innovation to our city. We are looking forward to working with them to bring this ethos to life in the heart of Westminster this summer."