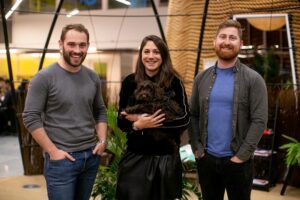 Opinion 21.11.2019
Huckletree launches new co-working offers
Co-working operator Huckletree has launched a trio of products to appeal to a wider range of occupiers.
Collectively branded 'Huckletree Places', the new services are called Personalised, Powered By and A New Village.
Aimed at businesses with 50 or more desks, Personalised will allow an occupier to customise a private space within an existing Huckletree office. Powered By will allow businesses of 100 people or more to select their own location to be designed, fitted out and managed by Huckletree.
Its A New Village service will see Huckletree partner with sector specialists that want to build a hub network of small businesses working in a centre. Huckletree already offers this service at its recently opened Westminster office, where it runs a hub of GovTech-focused businesses for PUBLIC Hall.
Andrew Lynch, Huckletree co-founder and chief operating officer, said the new concepts would cater to "larger members that we want to bring into the network but cannot facilitate in our typical spaces" as well as existing members that want to expand.
The first Powered By office will open in the first quarter of next year on Stanhope's White City campus, where the operator has just signed for 13,500 sq ft on top of its existing space there. The space will be occupied by The Collective dairy and Lineten – the two businesses that first asked for the service, which prompted Huckletree to roll it out more widely.
"One of our taglines used to be 'Huckletree until you outgrow us' – that used to be a badge of honour," Lynch. "But the model has evolved and our members do not want to leave the network."
Lynch said that as A New Village was more of a niche offering, it would be rolled out more slowly than the other concepts. "It is a highly bespoke product. I would not want to dilute that with 100 centres in London. We do not want to become a Starbucks of co-working, but I think operationally we could handle between two and four a year."
Huckletree intends to open at least 50,000 sq ft of space in London under its Huckletree Places brand next year and is also looking for suitable space in Dublin.
By Emma Shone