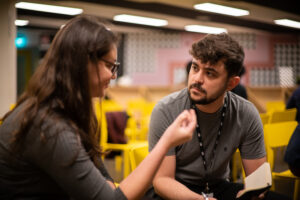 Opinion 09.09.2019
Huckletree launches Alpha School
This month, Huckletree is launching its version of a school – a school for the curious; the show-not-tell programme for entrepreneurs, designed to give the budding Steve Jobs out there everything they need to think, move and scale like a startup. I think this is wicked and, of course, I am bound to say that – but I really do think it is great. And the reason is that we have gathered together all the knowledge, experience and expertise at our disposal and developed an 8-week course which promises to be a hot-house of practical learning.
Their network of amazing professionals from Google to Nike, Twitter to Butternut Box are all teaching sessions as part of the programme but – if I had to bet – I'd say the thing about the school I am most excited about is seeing those attending interacting together, challenging each other, supporting one another. That's where the magic happens. Human relationships are key. Twain knew that – just re-read Huckleberry Finn if you are in any doubt.
Find out more at huckletree.com/alphaschool
Applications for Alpha School close at midnight on 15th September.