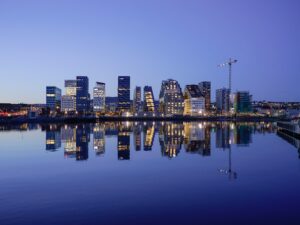 Investments 05.05.2022
From unicorn to assembly line?: Norway's tech gains could herald a golden new industrial chapter
Unspash Christoffer-engström
Back in 2019, I posed an intriguing question: could Norway ever build a unicorn?
In fact, just three years and one pandemic later, the country now boasts multiple homegrown startups that have reached billion-dollar valuations.
It's an incredible success story and evidence of a thriving domestic tech ecosystem. Indeed, looking beyond Norway's latest tech superstar, Dune Analytics, which barely existed when I wrote my last analysis piece, there are at least half a dozen other Norwegian startups likely to elevate themselves into the unicorn club in the near future.
A nation that was once a laggard in tech development and building international tech companies has transformed its prospects spectacularly, prompting a tantalizing new question: are we starting to see the emergence of a golden new industrial chapter in Norway's history?
A proven track record
The last three years have seen talent, companies, innovation and investors flocking to Norway. More money was invested in Norwegian tech companies in 2021 than ever before. The value of VC deals crossed the EUR 1 billion mark for the first time, with more than 301 funding rounds completed during the year, another record high.
These gains have coincided with wider tech adoption across Norwegian society and the emergence of a new generation of digitally native entrepreneurs. According to Bård Anders Kasin, founder and CEO of PortalOne, the world's first hybrid games platform, "Norway has always been at the forefront of technology, yet historically, this culture of innovation has been tied to oil and gas. Now Norway is changing, and the knowledge of high-end tech is trickling into other industries."
High-performing companies such as Kahoot (edtech), Cognite (industrial DataOps), Xeneta (shipping and logistics) and Oda (online grocery delivery) all highlight the expansion in Norway's tech ecosystem. But it's industrial technology where Norway has really established itself as a leader.
As John Markus Lervik, Co-Founder of Cognite, Norway's first unicorn, explains, "Norway continues to be a hotbed of industrial technology and a breeding ground for digital and software innovation. The country has the unique ability to combine industrial domain expertise with world-class software competence, and it is particularly encouraging to see how Norway is now building on these key strengths to attract talent and nurture exciting companies."
Norway's competitive edge
On paper, Norway is undoubtedly an attractive place to form and grow a company. The standard of living is high, there's a robust social safety net, work/life balance is good, and the State – through organizations such as Investinor and Innovation Norway – plays an active role in supporting and funding early-stage businesses.
Ronny Vikdal, Investment Director at Norwegian Government-backed venture investment company Investinor, explains why the country is now proving so conducive to company-building. "The population is highly educated, and founders can benefit from access to highly skilled labour and young talent at a lower cost than in Silicon Valley or London. Further, the Norwegian culture is one of togetherness. We're used to flat organizational hierarchies, and we take a collaborative approach to problem-solving – all things that resonate strongly with today's startup mentality."
Fortitude is also a vital component of the Norwegian psyche – precisely what you'd expect from a population used to battling extreme weather and enduring long and dark winters. And it is this combination of fortitude, collaboration and problem-solving that gives Norwegian-grown businesses their edge. As Kasin explains, "Norwegian entrepreneurs are drawn to solving very big problems because of our experiences in huge industries where companies had to tackle things once considered impossible. For example, my own hometown was where they invented artificial fertilizer. Solving complex challenges is in our nature."
A question of risk appetite
However, despite its impressive progress, there's still some way to go if Norway is to become an international technology powerhouse.
According to Kjetil Holmefjord, a former partner at StartupLab Oslo and author of the On Norwegian Tech newsletter, part of the challenge is that the stability and security of the ecosystem sometimes discourages risk-taking.
"In my view, Norwegian values are good for the world, and good companies stem from these values. However, we have to strike a better balance in terms of risk versus stability. Right now, too few companies die, and too many founders still go for the local maximum rather than pushing for the global maximum. It's a double-edged sword, with the State's involvement protecting our startups, but potentially also slowing them down and causing them to miss out on the biggest rewards."
Vikdal believes that cultural differences could also be holding the ecosystem back. "We have a saying in Norway that we build companies brick by brick. In a tech context, this means that before you launch, you have to have good, verified technology. While there are clear strengths to this approach, the flip side is you can spend too much time on development before getting products out to the market."
However, the speed at which companies such as Dune Analytics and Oda have grown suggests that this mindset is now shifting. And with more international investors active within the Norwegian tech ecosystem, founders can access wider networks, tap into broader expertise and learn from other entrepreneurs' experiences – all of which help develop a healthier risk appetite.
Teodor Bjerrang, Founding Partner at Oslo-headquartered VC firm SNÖ Ventures, argues that, over time, this will only add to Norway's competitive advantage. "Norway has always been viewed as a great place to live. What's changed is that we're now seeing amazing founders taking risks, building huge companies while maintaining their work/life balance. That's an amazing sales pitch for the ecosystem: you can take risks and still have a life!"
Making it on the international stage
To use a football analogy, Norway's tech ecosystem has won the domestic league and secured qualification for the European Champions League. Competing effectively at this level will require Norway to play to its strengths, exploring and carving out the niches where it has a competitive advantage, industrial heritage and a clear opportunity to succeed on a global scale.
For this reason, we're unlikely to see too many world-famous consumer brands emanating from Norway in the coming years. Instead, we should look to food, logistics, industrial B2B, energy, environment and climate tech for the next wave of Norwegian success stories.
Lervik believes that the energy transition, in particular, represents a massive opportunity for Norwegian tech. "As the energy industry scales renewables, we should amplify the digital readiness and AI expertise that our tech ecosystem offers from day one. Additionally, Europe's move to become more energy independent accelerates and adds to the urgency of this transition. We need to be the best at telling our story of why Norway is the right choice for top talent globally and include software's key role in the energy transition as a motivating factor."
Talent is another big consideration for Norwegian founders. The country has a small population of circa five million people and immigration hasn't always been high on the domestic policy agenda.
As Anders Kvåle, Co-Founder and working chairman at AI software company Spacemaker, points out, "What we need to figure out is how we can deliver a further ten-fold increase in the number of software developers. As a country, we should be considering every option here – from incentives to attract overseas developers, to creating alternative educational programmes that bring more wannabe developers up to trainee level. This is a critical element in developing Norway's competitive position for the coming decades."
Similarly, to succeed on the international stage, the State's role in supporting Norway's tech ecosystem may need to evolve. According to Holmefjord, "The State does a huge amount to fund and support early-stage companies, both directly and indirectly, meaning startups can go for longer before raising private money. This pushes up company valuations, benefiting the ecosystem as a whole, but it also means founders don't always get experience activating private investors, potentially creating problems further down the line."
Holmefjord's claim is borne out by the fact that Norway still lags a long way behind its Nordic peers in terms of private investment into the tech sector. "It might be better if there were even more incentives for private investors to get involved at an earlier stage," suggests Holmefjord.
There's also pressure on the Government to rethink its approach to remuneration and taxation, amidst fears that some of Norway's brightest founders could move out of the country. It's never been easy for Norwegian founders to give away stocks, making it harder to entice leading talent at an early stage. And while there are signs that the Government may be relaxing its grip on these stock option scheme rules, many founders are now finding themselves having to cede ownership against their will to cover hefty asset-based tax demands.
"A lot of founders are afraid of their company being too successful early on," explains Kasin. "They're gaining high valuations before they're generating enough income to cover their tax bills, leaving them no choice but to keep issuing shares to pay the Government. There needs to be a better foundation for founders to keep building their businesses here – particularly as our startups achieve higher and higher valuations."
Achieving a Norwegian assembly line
In just a few short years, Norway has gone from being the distant cousin of European tech to smashing the billion-dollar valuation ceiling several times over.
The country's strong culture, high quality of life, and all-encompassing social support structures – from free kindergartens to comprehensive free healthcare – make for an attractive environment to grow a business, and the State has been rightly praised for the ease with which entrepreneurs can access funding to get new ideas off the ground. If anything, the next challenge for the State will be recognizing when to get out of the way, as founders become bolder, more globally-minded and more capable of attracting the world's leading investors.
What's more, success breeds success, and the ecosystem is now starting to benefit from an influx of additional expertise, creativity and capital as successful founders embark on new projects or become investors in their own right.
"Over the next few years, we will see more diversification, breadth, and depth within our startup ecosystem," suggests Johan Gjesdahl, Managing Partner at Nordic early-stage venture firm Alliance Venture. "Companies are being built in all types of sectors – from aquatech to crypto – and we're benefiting from second and third-generation founders who know the playbook and have the scaling experience from the outset."
The journey is not yet complete, but Norway appears well on its way to creating a self-sustaining assembly line of globally successful startups. As Vikdal concludes, "Our ecosystem has never been better, and if we carry on strengthening the conditions allowing startups to flourish, I've no doubt that the investment will continue to flow, entrepreneurs will thrive and many more unicorns will emerge."