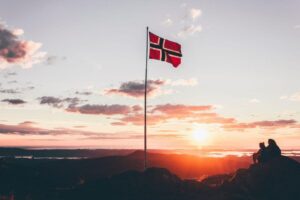 Opinion 16.07.2019
Could Norway Build A Unicorn?
Kjartan Rist for Forbes
Traditionally famous for its oil and gas supplies, unrivaled fishing industry, and having one of the highest standards of living in the world, Norway has hit the headlines for an entirely different reason in the last couple of years: as the latest startup hotspot to watch.
Norway's emergence onto the startup scene hasn't come out of nowhere. The Norwegian government has deliberately focused on building up the tech industry through investment and promotion, in a bid to move the economy away from its reliance on a handful of traditional industries. In doing so, entrepreneurship has caught on in a big way, with young people for the first time considering a career in startups, rather than big industry.
The figures show the strategy is working and momentum is building fast. Startup investment grew 76.3% in the first half of 2018, and 30 new scaleups were added to the count as of September last year. Now, as the ecosystem becomes more established, ambitions are rapidly rising too, with founders and investors starting to think about what comes next. And the question on everybody's lips is: Could Norway build its own unicorn—a tech startup founded after 2000 with valuations over $1 billion?
Solid foundations
Norway certainly has a lot in its favor. A stable business environment, highly educated workforce and aforementioned high living standards mean it has the infrastructure to support fledgling businesses and attract the talent it needs to found and run them.
It is also a society with tech at its core, having established a leading edge in healthcare and govtech. Norway famously leads the world for take-up of electric vehicles, and the government has just announced a national strategy for artificial intelligence. This readiness to be an early-adopter makes it the ideal test-bed for innovative, potentially world-leading technology. And with extensive natural resources, it isn't short of money to invest in new ventures.
These factors have combined to support the growth of several success stories, which could indeed become the unicorns of the future. One of the earliest stars was Kahoot, the game-based learning platform, currently worth €300 million. And numerous new challengers are hot on its heels, including SpaceMaker, the design and construction simulation software, valued at between $100 and $150 million, and Xeneta, the ocean freight market intelligence platform, which has so far raised €28.7 million.
Yet, while Norway has shown it has the creativity and talent to build successful businesses, it is still lagging behind more established hubs when it comes to the number of scaleups that call the country home. Ranked eighth in Europe, it is closing in on Finland and Denmark, but still has a long way to go to reach comparable economies, such as Sweden and Spain. Meanwhile, the U.K. had 29 times more scaleups last year.
Breaking into the big leagues
Many believe that building a billion-dollar business is the milestone Norway needs to instill the confidence and knowledge to become a truly global player. Success breeds success, as they say, and having one big growth story would help propel everything forward. An ecosystem learns a lot from nurturing such a huge company, gaining knowledge and skills that it can feed into future projects. So, does it need to do to make that jump?

1. More funding
While significant wealth has been created in Norway over the last 30 years, there is still no structured or specialized approach to venture investing and only a limited number of investors offer a value-added model and global outlook. This issue is exacerbated by the fact that family offices, pension funds and corporates are also reluctant to back venture, leaving a significant funding gap.
In many cases, this shortage of intelligent funding drives Norwegian founded companies to move abroad to seek investment. A recent Scaleup Norway report found that Norwegian companies that have set up an international base were able to raise twice as much capital as those that stayed put. The result is that valuable skills and knowledge are lost from the ecosystem at the same time.
But building up the funding pipeline required by scale-ups is a gradual process, according to Teodor Bjerrang, founding partner at Oslo-based VC, SNÖ. "We are starting to see family offices and institutional investors test the water in the VC space, although it is early days and not yet enough to support growth companies," he commented. "But it will happen and it's only a matter of time before more funding starts to come through. As more mature Norwegian companies secure international capital and expand abroad, we'll gradually see more family offices and in institutional investors catch on to the opportunity."

2. Next-level government support
While it has encouraged investment and got the ball rolling, there is more that the Norwegian government could be doing to ease the road for scaleups and potential unicorns.
For example, the tax system is still not as friendly as it could be for entrepreneurs, putting potential founders off or encouraging them to move elsewhere. One example is the 50% tax on equity shares given to employees, making this reward option less attractive for talent in Norway than it would be elsewhere. Added to this is the issue of work permits, which aren't always easy to obtain in Norway, again making it harder to secure the specialist skills that are needed when you're growing quickly.
The government could also do more to buy products and services from startups, rather than building its own technology in house. Norway's public sector is known for its innovation and forward-thinking tech, but there aren't enough opportunities for private businesses to win these contracts. This is a missed opportunity to build private sector knowledge and resources in areas such as govtech and healthtech that could then be exported all around the world.

3. Focus on its strengths
Finally, Norway doesn't have one dominant startup or scaleup sector, rather the top three verticals are enterprise software (12%), cleantech (11%) and fintech (9%). And what I would like to see more of is businesses piggybacking on existing strong, traditional industries to develop technology within those areas, whether that's fishing, energy, or the long-distance transport required to reach the extreme north of the country. These are the areas where Norwegian businesses can offer something unique, and potentially create something truly groundbreaking.
Norway's startup ecosystem has come on leaps and bounds in a very short time, and that ingenuity and hard work should be applauded. But now is the time for Norwegian entrepreneurs, investors and the government to start thinking bigger and taking some risks. Building a unicorn isn't the "be all and end all" of course–but it's a nice target to aim for.