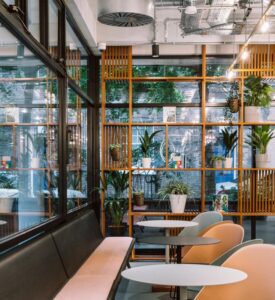 Opinion 17.11.2019
CONCENTRIC: Meet the activist investors
WHEN A VC FIRM'S PARTNERS DESCRIBE THEMSELVES AS ACTIVISTS, IS IT A SIGN TO GET INVOLVED OR GET THE HELL OUT?
For most people, the phrase 'activist investor' brings up images of bolshy hedge fund bros, forcing CEOs to make decisions that are good for them ─ and bad for the business. This isn't quite what Kjartan Rist and Denis Shafranik are getting at when they use the term. Instead, they're referring to the ultra-collaborative approach their six-year-old VC firm, Concentric, takes. "We saw a gap in the European venture landscape in terms of the type of investor we want to be, and the value we want to bring to these companies," Kjartan says.
NEXT LEVEL VENTURE CAPITAL
"We've coined the term 'activist venture' to reflect how we think and work with companies, and get hands-on [with] businesses," Denis adds. As well as providing cash, Concentric provides bags of support, offering up time and contacts in abundance. "Every time we meet somebody we [ask], where can they be relevant for our companies, where is the synergy with the portfolio?"
In a typical working week, it's not uncommon for Denis to be pitched up at the office of one of Concentric's portfolio companies, or workshopping through issues on the phone with them. "I assist with hiring, business development, fundraising, legal issues" he explains. A good example of how Concentric works is the pivotal role they played in the preparation of the concept for our new Public Hall space in Westminster. Concentric are not only based at our investor-first space Huckletree Soho, but they're also Huckletree backers. "This advice is something that, typically, VCs charge a lot of money for ─ however, we do it in the spirit of partnership."
If that all sounds a bit rosy, Kjartan and Denis say they're here for the bad times, too. "When companies go through crises, we often end up being one of the few investors that bother to try and fix it," Denis adds, saying Concentric has diffused a number of founder bust-ups in its time.
FINDING FRIENDLY FOUNDERS
So if Denis and Kjartan are going to be working from their portfolio companies' offices, it's important that they get on with the founders. "We're genuinely interested in people," Kjartan says. "This is not just an investment for us. We've gone in there not only with capital, but also with our time, our interest and our network. We deploy all of that."
While the fund's primary focus is on software businesses looking to automate traditional sectors, founder personalities can make or break a deal. The partners say they've passed on investments that have gone on to make strong returns for this reason, but say there are no regrets.
So what does a good founder look like? "Founders come in all shapes and sizes," Kjartan says. "We can plug the gaps in their skill sets through our support and network, but they [have to] have that hunger, and the ability, when they get knocked back, to get up again."
As well as resilience, energy and ambition, Concentric is also looking for humility ─ founders that can reflect on their leadership skills and take advice on board. "To find all these characteristics in one person is difficult," Denis admits, explaining that Concentric leans towards co-founded businesses. "Then hopefully there's a spread of those attributes."
BUILDING A FUND
By the time Denis and Kjartan joined forces ─ and rolodexes ─ in 2013, they were already pretty experienced at raising funds. So how do VCs go about convincing people to give them money to pour into brand new businesses, one of the most risky investments you can make?
"It's probably the hardest thing you can raise money for. So when entrepreneurs come and tell me it's hard to raise money.. Trust me, I know," Kjartan jokes.
"Most of these investors allocate capital to various asset classes, and almost all of them have an allocation for venture capital," Kjartan says, adding that many family offices try investing in startups directly before realising they need expert help. This is where Concentric can step in. "We're selling the fact that we have the team to do it, we have access to deals and we know how to handle them ─ all the way from sourcing to exiting."
Over the next few years, when Concentric returns a profit to its LPs, this will contribute to the growth of the next fund ─ and bring more investors to Denis and Kjartan's door. "As we deliver good returns, and create good vibes, they'll introduce new people to the network," Kjartan says. "It's snowballing."
Author, Sarah Drumm