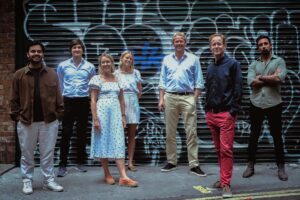 Investments 08.09.2022
Concentric completes first close of second fund
Concentric, the London and Copenhagen based pan-European venture capital firm, has completed the initial close of its second fund – Concentric 02. With the new fund Concentric will continue to invest at Seed+ stage, with a focus on startups that are developing non-trivial solutions to critical sectors of the economy, like financial services, logistics, real estate, industrial software, and mobility, while taking a hands-on 'activist' approach to working with portfolio companies. Concentric 02 starts with an underlying portfolio of seven investments.
"The European tech scene underwent a tectonic shift in the last decade, and there is now a wealth of talent, capital, and market demand for top innovative businesses," commented Denis Shafranik, Managing Partner, Concentric. "Despite recent market turbulence, the quality of entrepreneurs and business model maturity is immeasurably stronger than in previous downturns, and European companies remain capital efficient versus their global peers. VCs have plenty of dry powder to deploy and with valuations corrected to healthy levels, there is a strong opportunity to back top founders and business models. Good businesses will continue to succeed."
Concentric 02 will make initial investments of between €0.5m and €1.5m, investing primarily in European startups and founders, with a portion allocated to emerging market businesses, when the appropriate opportunity arises.
As an extension of its investment thesis, Concentric 02 incubated a Bitcoin focused fund strategy, TimeChain – the first of its kind in Europe – headed up by Alexander Mann, who was recently promoted to Partner.
To complete its venture investment offering, Concentric launched a Fund of Funds earlier in 2022 to invest in complementary managers across specific sectors, stages, and geographies. The fund focuses on investing in fund managers that align in interests, value, and style, allowing Concentric to cover emerging, high-potential but non-core geographies and technologies, dramatically improving deal flow. The initiative already includes eight fund managers.
Concentric 01 fund closed in 2018 and Concentric now manages a total of more than €100m in assets across its different venture strategies. The portfolio of 45 investments, which includes Superscript, Merama, BVNK, Frontier Car Group and Huckletree, has collectively raised more than €800m in follow on capital, and achieved six exits so far. Over this time, Concentric has grown to a team of 10, spanning investment and fund management roles. The company has also built an advisory council of 20 leading sector specialists and founders across Europe.
"At a time when scaling businesses is becoming more challenging, those firms that return to venture capital 'craftsmanship' will prevail, with a focus on the fundamentals of strong analysis, due diligence, and providing hands-on support to founders," commented Kjartan Rist, Partner, Concentric.
"Unlike 'term-sheet assembly lines', we offer real value to our portfolio through our activist venture approach and close involvement in the startup community. We aim to drive opportunity, innovation and scale, by building active personal relationships, maximizing our diverse network of experts, and always going the extra mile for our partners."