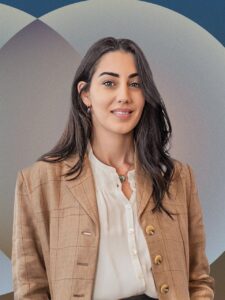 Investments 11.04.2022
Collaboration and culture-building in the post-pandemic workspace with Huckletree
Huckletree builds workspaces for some of the most innovative startups in the world and sits at the heart of a burgeoning tech ecosystem of more than 3,000 members.
The company has always strived to be more than just a provider of office space. It brings together like-minded entrepreneurs, delivers education, mentoring and network access for startup teams, and runs a successful in-house accelerator for underrepresented founders.
Huckletree has emerged from the turmoil of the pandemic stronger and more ambitious than ever. We spoke to Co-Founder Gabriela Hersham to learn about how Huckletree aims to capitalise on a post-pandemic co-working resurgence, and why she believes more startups are making high-quality workspaces their top priority in 2022.
You launched Huckletree back in 2014. Remind us of how and why you got started?
When I was living in New York almost a decade ago, I got to experience an early incarnation of co-working. I'm not even sure the term existed yet, but I loved the space in which I was working, and I started to become passionate about the possibility of bringing like-minded businesses together.
Specifically, I saw an opportunity to create a unique type of co-working focusing on the nascent tech and innovation ecosystem. Entrepreneurship was starting to skyrocket, and so when I moved back to London, I set about raising a small seed round to open a building in Clerkenwell, where I could house some of these ambitious founders amongst relevant peers.
After a solid first year, I wanted to grow the business, but not as a sole founder, which I found quite a lonely experience. Through my network, I was introduced to our Co-Founder, Andrew. We recognised that we had very complementary skill-sets, and, together, we set about rolling out the Huckletree model across several additional locations.
What gave you the idea for Huckletree's distinctive 'hub' model?
From the outset, our mission was clearly focused on tech and innovation – even if it meant turning away businesses that didn't fit the mould.
But as co-working started to take off, we saw that we needed to differentiate ourselves further, hence our decision to turn each building into an industry hub.
Our theory was that these hubs would create more engagement amongst our members, leading to more vibrant working environments. So our White City space became a B2C lifestyle hub; in Dublin, we launched a SaaS-focused hub; and over the next few years, we followed this up with a VC hub in Soho and a Govtech hub in Westminster.
And the theory worked! Retention rates and engagement levels were incredibly high across each location, right up until the onset of the pandemic.
How were you able to endure the pandemic and continue to support your members?
It's been a case of fighting to protect what we've built.
We all felt that Covid was going to be a big thing – a view shared amongst our investment partners – and this compelled us to act quickly, decisively, and with an eye on the long-term.
We were able to keep our spaces open for emergency use with enhanced health measures in place, and we also went above and beyond to preserve community engagement, deciding that if we couldn't be a community in space, we'd be a community in time instead. So we moved all of our education, training and events programming online within just two weeks of the first UK lockdown.
It was inevitable that we'd lose members, but we managed to retain two-thirds of our base. And with demand now surging, we're up to 92% occupancy across the group.
The steps we took definitely helped our members endure the worst of the pandemic. But we've all emerged with a clear understanding that being a community in time doesn't compete with bringing people together in real life.
What's the role of co-working in the post-pandemic world, and is 'hybrid working' something that you're now seeing in practice?
There's more demand for co-working than ever before, coming from businesses of all sizes. Everyone wants to have more flexibility in how they work and where they work.
For our core audience, it's about creating the exciting in-person environment and culture that startups need to thrive and giving young businesses access to an ecosystem of like-minded peers. Pre-pandemic, we had to persuade founders of these benefits. In today's world, we no longer need to justify it. The floodgates have opened.
Of course, it's also interesting that corporates are becoming more and more enamoured with having a flexible footprint, which will create more opportunity for our industry going forwards. And we're seeing increased supply-side interest too from the landlords, which will help to fuel our growth in the year ahead.
How are these trends impacting the type of workspaces being demanded?
The demand is all for high-end environments. Most businesses have realised that they absolutely need a physical office for collaboration and culture-building, and to get their employees on board with this, they have to be more selective about the space they choose.
Consequently, co-working providers can't get away with delivering mediocre workspaces. Instead, they need to be offering great amenities, a great ecosystem, and smart design and layout – taking into account their target audience and their specific spatial needs.
What are your growth plans for 2022 and beyond?
We feel it's a really exciting moment for our industry, and the strength of our brand creates an opportunity to capitalise on the renewed demand over the next two to three years. But it's essential that we maintain a clear focus on how and where we can best develop new ecosystems. This means giving careful thought to each new location and workspace, rather than rushing out to get the first available properties.
There are a lot of industries we're following closely at the moment. Healthtech, Web3 and the Metaverse all hold exciting potential from an ecosystem perspective. Perhaps top of mind is net zero. We're very keen to open a hub for these businesses, but it's not a decision that can be rushed because we have to find an outstanding building to house them, and there aren't many of these already open and operational. It's an intriguing challenge.
Finally, wherever we choose to expand, we want to grow in as self-sustaining a way as possible, forging strategic relationships with landlords and managing agents rather than having to pump capex into every new location.
Tell us more about Huckletree's education offering and the value-add services you're able to provide to founders and their teams?
It began back in 2017 with the launch of our accelerator programme to help early-stage businesses with underrepresented founders. Out of this has spun several other education programmes.
For example, we run the Future Founder Academy, helping founders accelerate their learning path by giving them the expertise and emotional support they need to succeed. And we've created the Hundreds Club, a quarterly programme built around specific domains – e.g. marketing – where we invite junior startup team members and provide them with mentors, workshops, and access to a broader peer group.
Ultimately, we're always looking for gaps in the tech and innovation ecosystem and opportunities where we believe our support can allow entrepreneurship to flourish.
You mentioned founders from underrepresented backgrounders. How has your accelerator programme performed, and do you think these founders are finally starting to see more opportunities within the ecosystem?
Our programme is now onto its ninth cohort, and, to date, we've supported 80 founders across 60 businesses, helping them raise more than £35m in seed funding.
I definitely think that the VC world is starting to recognise the shift that needs to happen. VCs increasingly have diversity strategies for investment and are actively looking to change their mindsets. But more work is still needed; we're not yet seeing much change in the hard stats about where the investment ultimately goes.
Concentric has been onboard with Huckletree since 2015. How important is it to have investors that can go the distance with their portfolio companies?
Concentric has been a really excellent partner to us, introducing us to valuable contacts and creating new business opportunities as we've grown. For example, Public, our partners at the Govtech hub in Westminster, came via a Concentric introduction.
Network access is 100% where venture partners can deliver the most value, but as a founder, it's
important to recognise that your network needs will change over time. You go from needing to find
early advocates who believe in your vision, to the challenge of tapping into a wider talent pool, and,
eventually, looking at how you can forge wider industry connections and partnerships.
That's why you need proactive investors like Concentric capable of supporting you with this network access at each stage in the journey.