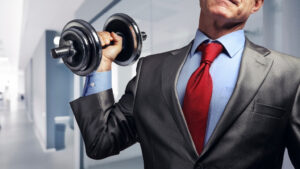 Opinion 19.08.2019
B2B Is The New Home Of Disruption – Here's Why
B2C innovation is a busted flush, it's time to look at the opportunities on offer in B2B.
Consumer brands have always attracted more attention than their B2B counterparts, and it's no different with startups. Businesses like Uber, Revolut and Spotify have use-cases that we can all relate to, as they  impact our everyday lives in very clear and obvious ways.
As we are all consumers, spotting opportunities in the consumer space, while not easy, is certainly easier than in the more opaque world of B2B. Consequently, over the years these more 'accessible' B2C sectors have led the way when it comes to innovative business models and value creation.
Saturation point
However it appears that the tide is turning, as the genesis of new and original consumer technology companies reaches something of a saturation point. Business models have exhausted the current generation of technologies, like mobile and cloud, or at the very least, much of the low-hanging fruit has now been taken.
Until there is a paradigm shift to the next wave of revolutionary technologies, of which contenders include VR, cryptocurrency and drones – for now in their infancy without obvious mainstream use-cases – we're unlikely to see another highly disruptive B2C business of the likes of Google, Facebook or Uber anytime soon.
B2B's moment
In contrast, B2B sectors have been slower to innovate with existing and proven tech, which means there are still plenty of opportunities to develop truly disruptive ideas and build enormous companies.
Furthermore, there is a big drive amongst corporations to overhaul and digitise their internal processes, thanks to price pressure from startups. These businesses are now realising that they usually can't do this successfully in-house – hence more opportunities for external innovators.
Declining external transaction costs also mean that it is often more cost-effective to adopt technology from outside rather than attempt to build everything in house.
Consumerisation has also had a huge impact on B2B sectors, with individuals in these roles demanding an intuitive and enjoyable user experience in everything they do.
Professional apps such as Slack and Trello are just the beginning, with a similar approach now taking hold in more niche areas, whether that's supply chain, insurance, real estate or manufacturing processes.
Users expect the same UX while at work that they experience when they're scrolling through Instagram, or using their online banking app and this is opening up a world of opportunities to solve a whole range of specific B2B problems.
Sectors ripe for disruption
Just a few of the B2B sectors currently undergoing massive disruption:
Insurance:  Innovation in insurance has been limited, especially when contrasted with banking. The innovation that has taken place has been at surface level on the consumer side, with nicer apps and perhaps a more efficient purchase process.
Look under the hood however and it's a different story. Insurers are stuck in the dark ages, due to clunky legacy technology and even offline, paper based processes. But this is now changing as new entrants realise they can redesign the backend technology to be much more efficient and cost-effective.
One such example is Black, which provides underwriting capacity to brokers and MGAs, using the blockchain to eradicate middlemen, drastically lower costs and provide a more streamlined, user-friendly UX.
Logistics: Logistics: Traditionally mired by manual, paper-based and inconsistent processes, the logistics industry has been crying out for change.
To give an example, every country has a national post office, which handles hundreds of millions of shipments, yet almost all of them rely on technology from the 1980s to do so.
Unbelievably, some postal offices in some of the largest South East Asian countries don't even have a computer system at all – they simply use pen and paper.
For these businesses to survive in an e-commerce driven world where consumers expect delivery tracking and same day delivery, they simply must adapt and move their capabilities in line with the torchbearer, Amazon.
The opportunity for technology startups in what is small part of the logistics value chain is worth hundreds of billions of dollars alone.
Manufacturing technology: Manufacturing organisations: Manufacturing organisations also have the potential to automate their operations to an extent never conceived before, through employing emerging technologies like the Internet of Things (IoT) and artificial intelligence (AI).
IoT devices will provide real-time status updates at all points of the manufacturing line, while image recognition and advanced robotics will mean humans become increasingly redundant.
Downtime in factories will shrink and costs will fall rapidly, not least because in factories where humans are redundant, operators will not need to heat, light or shut down their facility. Machines after all can operate in the cold and dark, 24/7.
A different kind of founder
We are just beginning to scratch the surface of the opportunities available within the B2B space and that's just with the current suite technologies now common throughout the B2C world. But spotting and taking advantage of gaps in the market is more complex than with consumer products.
First and foremost, B2B founders need to have a good understanding of the market in question, in order to see, amongst all the sector terminology and moving parts, where things could be done better or where processes are inefficient.
That means they have to combine all the usual characteristics of an entrepreneur – vision, bags of motivation, resilience and curiosity, with in-depth sector expertise and ideally, a healthy book of contacts in the industry.
This often requires an older, more experienced founder who is also on top of and has good command of the latest technology which is likely to be completely absent from the old-school companies that they previously worked for. Founders like these are hard to come by.
Different challenges
In many cases, B2B founders also face different challenges as they establish and grow their businesses, due to the sheer length of the sales cycle, the number of stakeholders involved, the challenges of integrating with an existing set of outdated software, and the level of after-sale support required.
Selling in B2B also often demands a higher degree of personalisation, as Risto Rossar, founder and CEO of insurtech startup, Insly, found when selling his software to insurance carriers.
He told us: "Selling B2B tech can often require a much more personal approach to sales, due to the more complex requirements of customers. This often means that a bigger sales team is required, and a higher degree of tailoring the product to individual customers, to ensure it meets their needs effectively. Consequently, you can end up facing bottlenecks in sales and implementation, until you've perfected the process."
On the flipside, once you're established, you are likely to stay that way for some time, plus the margins are typically significantly higher than in a B2C business, and the unit economics are incomparable. The technology required is also less prone to fads and whims unlike in the B2C space, so this predicatability, combined with sheer economic logic, makes exit valuations extremely attractive.
A B2B future
B2B startups might not hit the headlines as often, but they're the ones who are currently tapping into unexplored areas for innovation, and who have the potential to enjoy a greater magnitude of success in the coming years.
It might seem like a harder nut to crack – and in many ways it is – but those founders with the right combination of specialist knowledge, entrepreneurial skills and perseverance will be the ones reaping rewards on a scale hitherto unseen in the coming years.
Alexander Mann is principal at Concentric