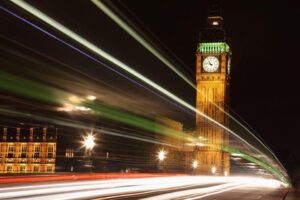 Opinion 30.05.2019
Are Startups Missing A Trick By Neglecting The Public Sector?
Despite being a venture capitalist who makes a living out of deploying capital into fast-growing tech companies, I always tell the entrepreneurs I work with that the best funding they can get is through sales. Sales provide cash flow, verification, ability to navigate product life cycles and instill confidence. Entrepreneurs mustn't lose sight of this and should explore all possible channels in their quest to generate the sales they need to build sustainable growth. In this respect, the public sector may offer one of the biggest opportunities of all.
Just like businesses, governments are navigating the daunting task of digitalizing their services for a rapidly changing world. And yet few businesses could claim their task is as big or complex as that facing the public sector, with its diverse and critical services that reach millions, or even billions, of people.
From the digital updates that are desperately needed now, to customer-centric platforms to ease pressure on stretched resources, not to mention the solutions that we don't even know we need yet, the scope of the challenge is mind-boggling. Governments are tackling huge, complex problems around issues such as compliance, tax-evasion, migration, terrorism, cybersecurity, aging population, health—the list goes on. Technology has a pivotal role to play in solving all of them.
The perfect challenge for startups
This vast opportunity space and the deep need for innovation and future-proof solutions means public sector digitalization is the ideal environment for entrepreneurs and the most cutting-edge startups. Wide scope for disruption, the ability to make a difference to millions of lives, and a huge potential market—predicted to be worth £20bn in the U.K. by 2025—should be just what every entrepreneur dreams of.
"The start-up environment of having to think on your feet, find creative solutions and adapt quickly to changing circumstances means that we're suited to addressing the challenges that the Government faces," commented Virraj Jatania, founder and CEO of Pockit, which has been working with policymakers to address the issue of financial inclusion.
"Start-ups are in their very nature ambitious, and this ambition includes providing answers to the big questions politicians are trying to solve. By working with the public sector, we can help policymakers address this issue whilst realizing the potential of how our business can have a positive impact on customers' lives."
Governments–particularly here in Europe–know that they need the fresh thinking and creativity of startups if they are to really modernize how they operate. Hence the UK Government's ambitious target of spending 33% of public sector procurement with SMEs by 2022. What's more, working with startups is a fantastic way for governments to support their homegrown tech ecosystem and drive economic growth, in a way that could potentially be far more influential than tax incentives, grants, and capital investment–however valuable those may be.
So why aren't more startups working with the public sector?
The fact of the matter is that the public sector still suffers from huge reputational issues that mean most startups don't even consider it as a potential client. A recent survey by GovTech venture firm, PUBLIC, found that 92 percent of SMEs still prefer to work with the private sector than with the government.
Long-winded, opaque tender processes, mountains of bureaucracy and onerous contracts mean that it doesn't make financial sense for most young businesses to go down the public route when they have much more straightforward revenue streams to pursue elsewhere. Government contracts are also perceived to involve a large amount of customization and working with numerous contractors. It isn't unusual for VCs to run a mile when they hear that has business has a public project on the books, due to the risk and cost involved.
These perceptions and attitudes need to change drastically if both sides are to enjoy the benefits that these innovative partnerships could deliver.
Slow but steady change is afoot
Thankfully, despite all the negative stereotypes, change is afoot in the public sector, which is gradually making GovTech a more attractive prospect to startups. For example, the U.K. government launched a £20 million GovTech fund in 2017, along with a GovTech Catalyst team, responsible for nurturing and cultivating the U.K. GovTech market. Part of the fund goes towards supporting a series of competitions, inviting startups to pitch solutions to government challenges; 17 of which have already been successful.
Support is coming from the private sector too, most notably from PUBLIC, a venture firm that helps tech startups transform the public sector. It acts as a much-needed bridge between startups and the public sector machine, providing the insights, network, and capital that founders need to help transform public services. PUBLIC has also just teamed up with the coworking space provider, Huckletree, to launch the U.K.'s first GovTech accelerator in Westminster called Public Hall.
"Startups are transforming every aspect of our economy, and all signs point to government and 'GovTech' being the next major market for small agile businesses," commented Co-founder & CEO of PUBLIC, Daniel Korski. "Governments should embrace this trend: startups will bring a wave of cheaper, faster and more user-centered services that will be to the benefit of citizens and service providers alike. Simple economics shows that key public problems like providing for an aging population or a burgeoning mental health crisis cannot be done using the models we have: startups are the answer."
How can startups succeed?
Progress is being made, but few would argue that more needs to be done to open up the public sector to startup innovation. And we mustn't forget that startups and investors themselves have a role to play, by starting to take government seriously as a customer and helping public sector organizations to see what the ecosystem can offer. There are a few ways they can help oil the wheels:
Carefully define who the buyer is: Public sector organizations are extremely siloed with limited flow of information between different departments and functional teams. So, first and foremost, spend time identifying the right person–or people–you should be talking to.
Call don't email: In a world that is inundated with bureaucracy and process, old-fashioned phone calls are your fastest route in. Use calls to narrow down your search and get inside information from the buyer about what they need and how the procurement process works.
Address the problem rather than the product: You're not likely to be talking to technical people, so be practical about benefits rather than getting bogged down in the technical details of how your product works.
Engage outside the procurement process: Unfortunately, procurement is a fact of life in the public sector, however rigid questions often don't allow you to present what you offer in the best way. Ensure you go beyond this by networking within the organization and demonstrating your solution in other ways.
Partner with other startups: Working with one large organization is easier than managing many small ones, so try to build consortiums with other startups where possible, to offer complementary services together.
Working with government and the public sector takes patience and a long-term strategy–you can't expect quick turnarounds or fast results. But there is no doubt that those who make inroads now will have big opportunities ahead of them, tackling some of the biggest problems facing society.