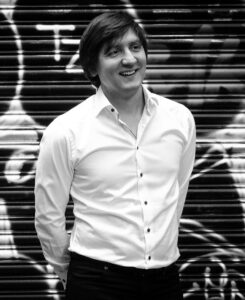 19.10.2022
Talking 'Enriching Partnerships' with Denis Shafranik, Co-Founder of Concentric
We're catching up with each member of the team about their individual journeys in venture capital and secrets to success. Here's Co-Founder and Partner, Denis Shafranik, discussing the power of partnership, creativity, and why it's still a great time to be an early-stage investor in Europe.
You started out your career in investment banking. How did you break into VC and how does your background complement Kjartan's investing experience?
Venture is an apprentice business; you need to spend time learning, building a network, and exploring your own areas of interest. Handing over cash is easy, the hard part is spotting and building relationships with the best companies, then realising investments and making returns.
As I was coming from a different sector and didn't have the context, I spent four years experimenting with direct angel investments before I met Kjartan and started Concentric in 2013. Even now, like all venture investors, we're still constantly learning, and it's that curiosity that ultimately makes you successful.
I may not have an entrepreneurial or traditional VC background, but my corporate experience and mindset have been useful, as they give me a more structured, critical approach to deals. I'm usually the member of the team who is running due diligence, identifying and trying to address key risks upfront, as well as ringing the bell when things veer off course.
This is central to how Kjartan and I complement each other, as he comes from a more traditional VC investing background, so we bring different strengths and perspectives to making deals and working with portfolio companies. VC is a team business, and we're convinced that success comes from building complementary, lasting partnerships, both with our portfolio companies and within our own team.
You're an experienced dealmaker. What is the secret to structuring deals so that everybody comes out happy?
It comes down to building long-term partnerships with fellow investors and founding teams, rather than fixating on the minute details of the deal at hand. Although deals need to be efficient, it's better not to negotiate every last penny out of an agreement and instead focus on what each side is contributing to the relationship. We, as VCs, are investing capital and time in helping to make our portfolio businesses a success and for their part, founders are risking their time, reputation, equity, and the 'opportunity cost' of pursuing other possibilities. So, unless you're dealing with a very sought-after business then both sides will make sacrifices to come to an agreement – it's a show of mutual respect, and that's how it should be.
Having said that, as an early-stage VC, one of our main considerations is ensuring that we have certain legal board rights in place, so that our voice is heard in key discussions and decisions about the business. This not only allows us to protect the fiduciary duty we have towards our LPs, but also provides an opportunity to flag issues that the management team might not otherwise pay due attention to amidst the focus on daily operational matters. On several occasions this approach has helped us to pivot a business or to secure additional funding before it is too late.
Valuations can be a sticking point and some founders can place undue importance on setting a high number, which can ultimately put them under greater pressure and make it harder to raise follow-on rounds. Valuing early-stage businesses is not an exact science – it ultimately comes down to market conditions, scale of the addressable opportunity, growth trajectory, product, and team quality. At the seed stage where we invest, founders and their investors have so many years of joint hard work ahead, that optimizing deals for the relationship should be a much higher priority than securing a high valuation. That's our focus at Concentric – partnerships rather than purely financial investments.
Concentric has just launched its second fund into a market that isn't as buoyant as it was a couple of years ago. Will this affect how you approach startup investing?
There is no doubt that 2022 continues to be a turbulent year for the economy, however we still believe that it is a great time to be investing in early-stage businesses.
Early-stage VC is generally less sensitive to macro-economic trends, and the quality of European founders and business models is far stronger than in previous downturns benefiting from a structural shift of talent into venture across all sectors. In addition, with valuations corrected and lead times lengthened, investors can focus on due diligence while closing financially attractive deals.
We're likely to see less committed venture investors drop out of the market, creating a more balanced, healthier environment for long-term partnership focused VCs. Concentric's hands-on, activist approach will be more important than ever, to nurture and support our founders through the ups and downs of their startup journeys.
What will be your focus for Concentric 02?
We are committed to investing in seed+ rounds, which still attract a comparative lack of capital compared to earlier or later stages, and we're confident that these fledgling teams will always have a need for activist venture partners.
We also plan to continue our focus on startups that are developing non-trivial solutions to critical sectors of the economy, such as financial services, logistics, real estate, and industrial software, as we have built a profile and strong networks in these areas. A new strategy that we launched with Concentric 02 is Timechain – an early-stage strategy of investing in businesses building on top of the bitcoin ecosystem.
We will continue to be an activist venture investor on the cap table of businesses, able to lead or co-lead rounds as well as join in an active non-lead capacity. Concentric 02 and Timechain are starting with seven investments in the portfolio and will back an additional 30 to 40 businesses over their deployment cycles.
We also launched a Fund of Funds earlier in 2022 to invest in complementary managers across specific sectors, stages, and geographies. The fund focuses on investing in fund managers that align with our interests, value, and style, allowing us to cover emerging markets and technologies where we see potential.
You have a personal passion for the creative arts and make investments into creative projects, through your family office, Ermak. What parallels do you see between this and your work with startups?
Ermak focuses on partnering with leading creatives within the performing arts and crafts sectors. There is a tendency to think that creative sectors and business sectors are diametrically opposed. But I strongly believe that in a rapidly changing world, having that agility of mind, and the ability to create, persuade and perform, is equally important in a business context.
A creative leader is not dissimilar from a tech entrepreneur – both have to innovate and be mentally agile to deliver a project, both have to fundraise and persuade a broad ecosystem of partners. Working across both the creative and venture sectors allows an investor to develop a better appreciation of and sensitivity towards a founder's idiosyncrasies – they are critical to developing both a company culture, but also to finding a breakthrough for the product they are building.
I believe at heart that venture investors, founders and artists are all makers – it is this desire to create that drives innovation forward. It is a privilege to be able to learn from experts across all three verticals.