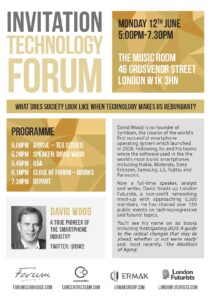 Opinion 12.06.2017
Third annual Concentric/ERMAK Technology Forum
Organised by Concentric and ERMAK in collaboration with Forum.
A talk by David Wood – A true pioneer of the smartphone industry.
What Does Society Look Like When Technology Makes Us Redundant?
David Wood is co-founder of Symbian, the creator of the world's first successful smartphone operating system which launched in 2008. Following, he and his teams wrote the software used in the world's most iconic smartphones including Nokia, Motorola, Sony Ericsson, Samsung, LG, Fujitsu and Panasonic.
Now a full-time speaker, analyst and writer, David heads up London Futurists, a non-profit networking meet-up with approaching 6,000 members. He has chaired over 150 public events on techno progressive and futurist topics.
You'll see his name on six books including 'Anticipating 2025: A guide to the radical changes that may lie ahead, whether or not we're ready' and, most recently, 'The Abolition of Aging'.