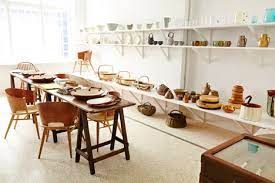 Opinion 02.04.2023
The New Craftsmen Defined a New Era for Craft and Its Journey Continues
Over the last ten years, The New Craftsmen has led a redefinition of the craft sector, reaffirming the place of great craftsmanship within the luxury market, and raising the profile of some of the UK's leading Makers. Following a recent transition to new ownership and a new business model, we caught up with the founder, Mark Henderson, to hear about the story so far. Here, Mark reflects on the origins of the brand, the challenge of balancing social and commercial aims, and the lessons that other entrepreneurs can take from its journey and transition to a new chapter.
Could you sum up the role, both social and commercial, that The New Craftsman has played in the craft sector over the last 10 years?
I can recall the genesis of The New Craftsmen – it was at a Walpole Crafted event in the Andaz Hotel in 2010 and I was listening to Deborah Carre and James Ducker talking about the difficulty of pricing hand-made shoes; it was a theme that came out through the day – they believed that despite the fact that the luxury business was booming (the cost of servicing a mid-range BMW probably exceeding the cost of a pair of their hand-made shoes that would last a life-time) there was a reluctance to pay for something made by hand. There was a stigma to the craft industry that I heard echoed at a conference the next year when one of the speakers said "the trouble is the luxury industry has hijacked the craft agenda" – no, I thought, the trouble is the craft sector doesn't have the confidence to take on the luxury industry or to be a part of it! I talked to Natalie Melton – who at the time was commercial director of Arts & Business – about this and she introduced me to Catherine Lock who had just completed a tour of the British Isles looking at Craft and was working on a project for Nike.
At about the same time, 2011, Grayson Perry's ground-breaking exhibition, the Tomb of the Unknown Craftsman opened at the British Museum. I was very, very moved by the arrowhead, millennia old that closed the show – Craftsmanship survived everything; it was a critical part of existence as human beings – whether as luxury or utility.
Catherine and I got working. We approached the late Priscilla Carluccio, sister of Terence Conran whom I had heard speaking at the V&A about her own venture into Craft: Few & Far which had morphed into a life-style and fashion business – "I started out selling craft", she said, "and ended up selling frocks". She was so generous in her help to us.
Together and, now joined by Natalie we put together a concept around launching craft into the luxury sector. That's when we met Denis Shafranik who became one of our founding shareholders. We pitched to Mayfair's leading landowner the Grosvenor Estate who loved the concept and offered us a beautiful town-house 5 Carlos Place (now HQ to Matches personal shopping) as a pop-up space which we occupied for 3 months, launching The New Craftsmen with our first cohort of 32 Makers.
I think it's fair to say that we were in at the start of a worldwide shift in the perception of the value of craftsmanship – developing a proposition that brought a contemporary luxury market to craft: moving it beyond the Collectors/Patrons market to a more mainstream audience who might previously have simply bought branded goods.
The craft market is thriving in 2023 – the Crafts Council's survey of 2020 reported sale of Craft in the UK as having risen from £883m in 2006 to over £3b in 2019 – and, despite the impacts of Covid and Brexit, that underlying growth continues.
We built a business that impacted the luxury industry, that showed that high value craft items could be sold online and incorporated into interior design projects; but it wasn't plain sailing…
What are you most proud of in your ten years of TNC? What have been the big highlights?
Four things:
Firstly, delivering much of what we aimed to do – creating a route to market for an unbelievably talented group of people. One that, despite the financial difficulties that The New Craftsmen suffered during its first iteration (which ended in October 2022) has gone on to thrive under its new management.
Secondly was the pleasure of working with a succession of brilliant and passionate people – the team that we worked with in developing the business, the Makers and their incredible responses to the creative briefs they had from Catherine and Kathy – who now runs the business; and the partners we worked with: world-class interior designers such as Jonathan Reid, Pierre Yovanovitch, Kit Kemp; and the media (particularly the FT and House and Gardens but many others) – a host of brilliance and thrilling humanity.
Thirdly the recognition we received from the luxury industry – from a Chanel field team coming to film at our second pop up (a garage in Mayfair) in 2013, our collaboration with Burberry and Christopher Bailey in 2016, becoming a Walpole Brand of Tomorrow in 2017 and the host of customers we have had from the fashion and luxury industries.
And, finally bringing together a group of patient and compassionate investors who were prepared to support a difficult proposition – investment capital can be such a force for positive change!
How have you managed the interplay between the social and commercial role of TNC during that time?
Not that well!
I think my social instincts and optimism trumped my commercial ability. Building a luxury business is all about attention to detail, obsessive attention – whether its communicating with shareholders, building a vision or the placing of an apostrophe; about how your team are dealing with customers, about delivering truly beautiful and outstanding products.
In its first iteration The New Craftsmen was a very complicated beast – dealing with hundreds of customers and over 100 Makers (our "supply-chain") on-line, via a showroom and in person (interior designers and private clients; but also taking care with every online order even if it was just a few pounds). This put a tremendous strain on our team – which frankly became too big for the scale of the business. There were many, many challenges – and developing a commercially sustainable business was one that I failed at, this time.
What have been the biggest lessons you took from the experience, particularly around managing the transition to the new chapter, and supporting stakeholders through that process?
Listen carefully to your board. I think I may have been a little arrogant in my optimism. Perhaps we should have recruited a more forceful board with a tighter and more relevant skills matrix.
The old adage of hope for the best but plan for the worst is a good one – and, in particular, taking a very, very careful look at cash-flow and gaming alternative scenarios.
But I maintain that building a clear and inspiring mission is fundamental to success – I think we did that very well and Yelena Ford who succeeded Natalie as Managing Director in 2016 was outstanding at that.
In terms of the transition, I think the most important things were:
Faith and belief in the individual who took over the running of the business – Kathy Lacour
A genuine admiration for the values and experience of her partner – Sarah Myerscough,
And, doing our utmost to ensure that the transition of the business was as smooth as it could be for Makers, customers and staff.
The past twelve years have been an amazing part of my life. I wouldn't have missed one moment of it for the world – and I cannot thank enough all those who supported and took part in the development of The New Craftsmen. Now I simply hope that it becomes something that we can all feel very, very glad that we were a part of.
Finally, I'd like to qualify the term "optimist" that I used earlier in this piece with a quote from Vaclav Havel "Hope is not optimism, which expects things to turn out well, but something rooted in the conviction that there is good worth working for".
I am hopeful, grateful and, a little, proud.
I understand the brand in its new incarnation is doing well. How is the brand continuing?
Under the stewardship of Sarah and Kathy, the brand continues to champion makers and craftsmanship, with much of the same spirit as its founders. Their aim is to introduce exciting, innovative and authentic crafted collections synonymous with the ethos of this established name in the craft world, a name that has always focused on quality of making by British makers. The business model is much simpler, with a focus on fewer makers and curated key collections spanning lighting, furniture, textiles and objects.
Having re-launched the brand with a show named 'Grown in Britain' at Collect Art Fair and plans to showcase their signature collections at London Craft Week in May 2023, they hope to present a new craft story, one which embraces cutting edge developments in the industry, engages new audiences, and heralds the value and relevance of craft and the handmade in the interior spaces of today.