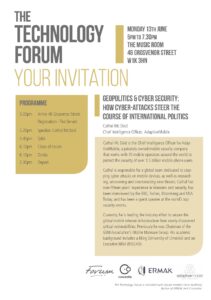 Opinion 13.06.2016
Second annual Concentric/ERMAK Technology Forum
'How Cyber-attacks Steer the Course of International Politics'
For the second year Concentric and ERMAK co-hosted the regular Technology Forum. The speaker this year was Cathal McDaid, Chief Intelligence Officer at AdaptiveMobile. 
Cathal discussed Geo-politics & Cyber Security, and how cyber-attacks steer the course of international politics. His bio is summarised below.
Cathal McDaid
AdaptiveMobile is a privately owned mobile security company that works with 70 mobile operators around the world to protect the security of over 1.5 billion mobile phone users. Cathal is responsible for a global team dedicated to stopping cyber-attacks on mobile devices, as well as researching, uncovering and counteracting new threats. Cathal has over fifteen years' experience in telecoms and security, has been interviewed by the BBC, Forbes, Bloomberg and USA Today, and has been a guest speaker at the world's top security events.
Currently, he is leading the industry effort to secure the global mobile telecom infrastructure from newly-discovered critical vulnerabilities. Previously, he was Chairman of the GSM Association's Mobile Malware Group. His academic background includes a BEng (University of Limerick) and an Executive MBA (INSEAD).