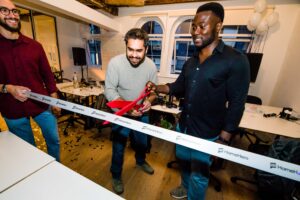 Opinion 29.07.2020
Pioneering 'home as a service' with HomeHero
HomeHero is on a mission to transform how people manage their homes, using world-class technology to help people free up their time for what really matters in life.
Founded in 2019, the business is constantly on the lookout for new ways to support people's household needs. During 2020 it has been busy developing its proposition in light of the Covid-19 pandemic, which has fundamentally changed many in-home behaviours and the amount of time people spend at home and in their local area.
Having recently undergone a brand update as well as moving to a 100% remote operating model, we chatted to HomeHero CEO and Co-Founder Kenny Alegbe to hear about the company's journey to date and why he sees 'home as a service' as a key category in the years ahead.
What are you setting out to do with HomeHero?
We saw an opportunity to expand our current offering of household bill management and take on a far broader customer problem: how to service the core needs around a home and save our customers valuable time. So, we're taking on the ambitious project of defining a whole new consumer category that we call "Home As A Service". This is a meaningful step towards a billion-dollar opportunity to become the pivotal player in how people manage their homes.
How is HomeHero reshaping how people manage and interact with their homes?
We are taking all the disparate needs in the home and bringing them together on one platform to service them. This means 'switching on' a home from day one, setting up and taking care of bills, and adding on additional services to help our customers manage their homes.
We are also working on features to connect people to their local communities, something which has become more relevant than ever in the wake of Covid-19, as life has become hyperlocal. Moving into a new home means moving into a new neighbourhood and getting to grips with local amenities, as well as connecting with services in the area. We believe the power of HomeHero will not only be in making a house a home, but also making a neighbourhood a community.
The business has grown rapidly in the last couple of years – how have you approached building a culture as the business has expanded?
It's been an interesting challenge. For so long we were operating as a lean team of less than 10. We're now over 50 of us globally and our key focus is to retain the key traits that characterise our team's personality: courage, kindness, and working smart. We've managed to really bond as a team, which has influenced how we work together on collaborative projects. This is something I'm keen to retain.
How are you addressing this challenge?
Firstly, investing in our team activities and appointing a culture chair to spearhead these. Secondly, tightening up our onboarding processes so that new joiners go through a structured acculturation process in their first week to set them up well. This became incredibly important during lockdown as we started onboarding people remotely. Thirdly, looking at wellness considerations in our working habits, from initiatives to support people working from home to physical and mental health app subscriptions, and the continuous polling of staff to temperature check motivation and wellbeing.
You've also taken the decision to move to 100% remote working. What's the thinking behind this, and how is this impacting organisational culture?
The pandemic forced us all to leave the office and work from home. What we've found is that it's possible to go remote without compromising on culture, providing you're prepared to invest in it. We've successfully transitioned without any impact on productivity, and as such, it doesn't make sense to return to a full office – this solution future-proofs our business in case there's a resurgence of the pandemic.
Instead, we have what we call 'homies' and 'deskies'. The former are entirely home-based; the latter are team members with workspace memberships so that they can meet in person at SPACES whenever they need.
In addition to the investments I've talked about, we've also rejigged other elements of our culture to better suit remote-working. For example, every Tuesday I now host a 15-minute company-wide briefing to help keep us all on the same page and provide a real anchor in our week.
How did you come up with your distinctive new brand?
The brand had to be both playful and down to earth; a name that evoked superheroes and our core mission to step in and save people's time. We wanted to embrace the hero territory but not overplay it. Part Superman, part Clark Kent. Our logo, illustration style, font choice, and colour palette all reflect this balance. We've managed to create a style that suggests 'everyday superhero' and a brand that is ownable and fun to use.
How would you describe your leadership style as a founder?
I employ people who I have the utmost confidence in so I am fairly hands-off outside of our weekly prioritisation meetings and OKR (project) sessions, where I simply challenge people for reasoning and clarity for the wider team. There's no room for BS in the team. I'm conscious about leading with a clear vision but not micromanagement. It's also important to me that the wider team is aware of the "why" behind the projects we set and are striving towards a common goal. They can see I'm verbal and passionate about our mission, whether that's in our stand-ups or at speaker opportunities. We recently surveyed the team asking them to describe my leadership style and the top three words were: encouraging, visionary and fair. I'll take those!
What are the benefits of having Concentric as an investor?
First off, they've been supportive. It's been a good balance between operational support versus standing back. They've also been a good platform for advice across a number of business areas and have made useful introductions along the way. Underlying this, they are just a good bunch of people with genuine insight on the founder journey and what makes a great business.