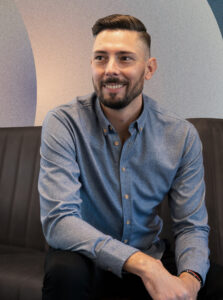 Investments 24.10.2021
How I've grown my business through disruption: Cameron Shearer, Superscript
Disrupting the bundled, one-size-fits-all business insurance model, Superscript is the first insurtech to become a registered Lloyd's broker. Ir provides bespoke, flexible cover to a broad and diverse range of business types, delivered via a monthly subscription.
Launched initially as Digital Risks, Cameron and co-founder Ben Rose set out to meet the under-served insurance needs of small to medium sized businesses. Traditionally, small businesses have been at the mercy of the risk appetites of insurers, meaning they are often over-insured or under-insured. Alongside this is a laborious buying process. Superscript tackles these frustrations as an insurtech with the underwriting expertise to understand the emerging risks of modern businesses, as well the technological capabilities to deliver the right cover in line with today's digital expectations.
Cameron oversees a rapidly growing team of 80 people, across London & Rotterdam. He takes us on his six-year journey.
What problem led you to start Superscript?
We saw an intrinsic supply-demand disconnect when it comes to business insurance, particularly for the fast-changing needs of the small business economy. Their risks evolve quickly, driven by new tech, new ways of working and customer needs. Combine this with slow moving insurers who are driven by their own risk appetites, rather than what small businesses need, and it meant that small businesses often struggled to find the right levels of protection at the right price.
We set up Superscript to flip the priorities around, and put customers at the heart of the insurance experience. We designed a system that matches unique customer needs with a range of insurer appetites – a win-win for the supply chain. Most importantly, customers get better cover far more suited to their needs with greater flexibility and speed.
What experience do you have in your sector?
My Superscript co-founder, Ben Rose, and I bring different perspectives and experiences to the table – which has been a crucial part of our success so far. Ben has over 18 years' experience in insurance broking, risk management, underwriting and claims. His network and experience have been invaluable in enabling us to navigate the complexities of the industry, sourcing the best commercial partners who have a real interest in the relatively untapped market for customer-centric business insurance. Meanwhile, my background is in tech. From my early coding days, my career spans a range of industries: education, advertising and internet broadcasting. As a leader of a tech business, being able to play a part in the problem-solving process and genuine innovation is not only essential to fast-growth, but keeps things exciting.
How are you challenging the insurance industry? What's Superscript's USP?
I believe we're fundamentally different to not only legacy insurance providers, but other insurtechs too. For Superscript, transforming the customer experience is why we exist. While traditional business insurance is generally bundled up by a single carrier with their own specific appetite for risk, we've created the technology to re-organise this. We leverage a wide range of carriers to offer greater flexibility, personalisation and price by breaking down and aligning the specific customer needs. Uniquely, a Superscript customer can leverage multiple carriers at once – all though a single touchpoint, providing the customer with a unified experience. As far as I know, we are the only provider with this technology. It's also a win-win for underwriters, as we provide a stronger match to the risks they want to carry.
We've also dropped the traditional concepts of annual policies in favour of a monthly subscription-based approach – allowing small businesses to amend their policies any time.
What part does technology play in your business?
Tech is in our DNA. We have developed proprietary, end-to-end, machine learning technology. This gives us the edge in the insurance industry – which has been slow to disentangle itself from the legacy systems that have been around for decades. These systems restrict innovation and impose limits from challengers in the insurance industry. To truly create something customer-centric, we realised that we had to build it ourselves.
Hand-in-hand with technology is the data. We have placed a particular focus on building a fantastic data-science team, whose analytical expertise provides invaluable, actionable insights in the development of our proposition.
Take us through how you got up and running
We started the business with a small pot of personal savings to live on, while things got up and running. I continued working through the first couple of months, until it was time to go all in. Getting started was a fairly lengthy process, as becoming regulated by the FCA is no quick task. While we were in the process of doing this, we focused on building relationships with insurance carriers and networking. Our first round of funding came from a group of angel investors. It was back when Insurtech was a shiny new buzz-word – in fact, I recall debates on whether it should be 'Insuretech' or 'Insurtech'.
How much funding have you raised to date, and how has it helped you to grow?
We've raised £20m in funding to date. Our Series A equity funding round was in February 2020, led by BHL Holdings alongside Concentric, Nire Capital, Beazley and Seedcamp.
All of our investors have added so much value as we navigate rapid growth – as they know what it takes to scale a tech business. Of the funding itself, we have used it not only in terms of customer acquisition – expanding our distribution strategy so that our partnerships and advisory arms have now become core pillars of the business – but we have also invested heavily in the growth of our data-science capabilities and the development of machine learning technology.
What would you say to any other business owners mulling over whether to bring in outside investors?
Raising capital isn't for every business – there are definitely pros and cons. However, I would say that while it can be daunting to bring in outside investment, getting others to invest in your idea is invaluable regardless of your chosen funding route. Pushing yourself to structure and present your proposition and inviting others to challenge it can help you to build on your ideas. If you struggle to convince others, you might think twice about it.
As the business has grown, what major challenges have you faced and how have you overcome them?
Restrictions on resources, people and cash is often a challenge at the start. Agility and creativity helped us to overcome this – through constantly testing and iterating on propositions and assumptions. This approach has remained with us, as it has enabled us to focus on initiatives that really add value, while parking those that don't.
How do you measure success for yourself, your investors, your staff and your customers?
We've always built our solutions with OKRs in mind, allowing us to segment and track performance accurately and at a quite deep level. In particular, being able to interrogate our unit economics which look at acquisition, conversion, value and retention.No surprise that growth is absolutely critical for every scale up along with measuring customer satisfaction. I don't believe success can be achieved without a motivated and engaged team, hence building culture is personally very close to my heart. It's important that all our people are aligned to our vision and passionate about what we're creating for customers.
Who has most influenced your working life?
I was lucky to grow up surrounded by enterprising people, which gave me invaluable insight into the realities of entrepreneurship. As a child, I vividly remember the smell of hops and the buzz of energy around my father's first major enterprise, the Hahn Brewing Company. His later ventures focused on tech. Towards the end of my high school years, I was able to get involved, which really opened my eyes to practical business challenges and how to approach them. This inspired me to take a software engineering route, which has been a critical advantage in everything I've done since.
How do you relax outside of work?
In the early days, I found managing the split between work and personal time challenging. Focusing on mindfulness through apps like Calm really helped me to train myself in this area. These days, I really enjoy running. Some of my toughest challenges have been solved on the treadmill. Other honourable mentions include cooking, travelling, and I'm a total sucker for sci-fi TV!