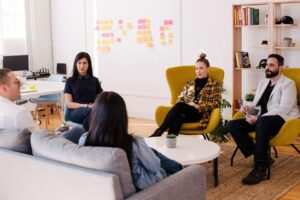 Opinion 17.03.2020
From Passive To 'Activist' Investing: Redefining The Role Of VCs
Kjartan Rist for Forbes
Despite the current challenges being endured by startup communities all over the world as a result of COVID-19, ongoing geopolitical tensions and stock market destabilization, 2020 is still a pretty good time to be a founder looking to grow a business in the burgeoning global tech sector.
Record levels of venture capital funding are being invested into the space – more than USD 300 billion in 2019 alone. VC investment is now seen as the first port of call for most early- to mid-stage startup tech firms. In fact, since 2015 the amount of money raised by European startups has more than doubled, with the biggest increases going to seed-stage businesses.
As with other growing capital markets, the VC industry attracts many different types of capital, from family businesses and wealthy private individuals right the way through to Government circles. Consequently, different VCs will have their own strategic priorities (beyond pure financial returns), such as employment or innovation, and will adopt different approaches accordingly to how they manage their capital.
WHAT MAKES VENTURE CAPITAL UNIQUE?
Venture investing differs markedly from other private asset classes such as private equity or real estate. Companies seeking VC investment are younger and less stable; they carry a lot of imperfections and they make more mistakes because they're disruptive and looking to break new ground. Their teams, business models and sales channels are not fully developed, and they'll often require further funding before they can realize their potential.
To those new to the industry, this is often misconstrued as a case of 'picking winners'. True, it's unlikely that a VC will get very far picking incontrovertible losers. However, there are a growing number of VC investors entering the market – many of whom have disconcertingly deep pockets – whose passive strategies miss the point entirely about what venture capital is supposed to enable and deliver. Theirs is a mindset of 'it doesn't matter if one startup doesn't go the distance, as long as enough of the others in the fund manage to deliver'.
As Alejandro Cremades, author of The Art of Startup Fundraising, puts it, "Nine out of 10 [startups] will end up failing. For that reason, VCs will go for those companies with the potential of giving them a 10x type of return so that it can help them with the losses of other companies inside their portfolios."
This type of approach to VC investment creates a high stakes environment for everyone in the fund, which is why it's alarming to see so many VCs seemingly content to sit back and let their portfolio companies sweat it out, rather than stepping in to provide hands-on support and direction.
REDIFINING 'ACTIVISM'
VCs have both a responsibility and a clear incentive to back up their financial commitment by playing not just an 'active' role in shaping the fortunes of their businesses, but an 'activist' role.
The term 'activist investor' has been given a bad name over the years by headstrong financiers imposing their will on founders and CEOs, usually for the good of their bank balance rather than the health of the business. But it's a term that needs reinventing for the next decade of venture capitalism given the reputation that the sector is developing for passive and largely indiscriminate armchair investment.
What's needed, in a nutshell, is a break from the 'Gordon Gekko' approach to investment. The man who entertained us with pearls such as, "It's all about bucks, kid. The rest is conversation," or, "If you need a friend, get a dog," may have been a savvy investor, but he wasn't exactly in it for the good of the businesses he backed (he was also a duplicitous criminal!).
For venture capitalism to exist as a viable asset class, it has to stand for something more than just money. After all, there is more capital available in the world today than at any point in history. New types of funding are emerging all the time; for startups, it's certainly not a case of VC or bust.
A CLEAR CORRELATION BETWEEN VC STYLE AND SUCCESS
VCs need to show ongoing interest in their portfolio companies, investing time in building relationships within these firms so that, when they have advice to give, it is trusted and well-taken. They also need to build and develop their own trusted networks of advisors, experts, potential partners and customers, creating a matrix of opportunities that their startups can explore and capitalize upon. And, above all else, they need to demonstrate leadership – not by usurping the position of capable founders, but by acting as true, collaborative partners at a strategic level.
"What I value most from an investment partner is the ability to help our company out on financing, interviewing senior hires and introducing us to different people and organizations," explains Virraj Jatania, CEO of inclusive banking provider Pockit. "As a founder, I also need to feel comfortable with my investors, whether I'm raising positive developments in the business or highlighting any challenges we are facing."
Activist VCs deliver value across many areas of a startup's ongoing operations – from business development and marketing to recruitment and team construction, not to mention being a vital sounding board when it comes to the overall strategic direction of the business. As Sunny Dhillon of Signia Ventures puts it, startups can "…take advantage of their [VCs'] pattern recognition and eagle-eye view on your industry landscape to get insights into where things are headed and what competitors and other startups in your field might be working on."
By analyzing Series A rounds in 2019 it's possible to see a clear improvement in venture outcomes where there has been an activist VC leading each funding round[1]. Not only that, but research suggests that when VCs are 'paying attention' to their investments, experimentation is more likely to occur and succeed, leading to greater innovation and increased chances of a successful exit.
One of the other benefits of the activist approach is the ability to foresee and mitigate potential issues at an early stage. This is particularly pertinent given that we are going through a crisis caused by coronavirus, which is causing upheaval and impacting more or less every business, including venture portfolios.
All startups make mistakes, and VCs' experience in the field makes them well attuned to the sort of errors that typically occur. They know what to look out for; the problem is that to date, too many VCs simply haven't been paying close enough attention at critical moments, or have been reluctant to step in and play a more active role in steadying the ship.
SPENDING TIME WITH START-UPS IS ILLUMINATING
There are many reasons why startups fail. The quality and make-up of the management team is cited as the preeminent issue in almost one quarter of cases, generally because teams lack the complete set of expertise and capabilities required to make their business a success. Activist venture investors can quickly gain a picture of any limitations within the existing team by dint of spending a lot more time with the company than a typical VC might commit. This makes them better placed to advise on any changes that might need to be enacted, helping with recruitment or team restructures, suggesting external advisors that could be brought on, or even plugging the gaps themselves.
Ultimately, VCs that are 'present' within their portfolio companies play a vital role in constructively challenging the status quo and forcing founders to make difficult but necessary choices – something that doesn't always come easy if they've been on an intense journey with the same core team for the past few years.
There's also broader ecosystem benefit to consider, with experienced activists able to play a development role to their portfolio company founders, thus improving the long-term health of the broader business ecosystem as founders share their growing skills and expertise with others.
PERSONALITIES OVER PROFITABILITY
The key to being a successful activist venture investor is the ability to build successful long-term relationships with company founders. Hence, activist VCs need to be prepared to pass on investments – even those that may go on to make strong returns – if they don't feel there's a meeting of minds.
One VC that is using the 'activist' approach to building the next big wave of tech is Antler. According to Fridtjof Berge, Antler's co-founder and COO, "There are lots of investors who are focused on companies that need capital to scale. We focus on getting the startups off the ground in the best way possible, in addition to investing in them as they scale. To do this, we facilitate the right co-founders to meet and start working together, and help them avoid the typical mistakes of early-stage startups."
Activist venture capitalism won't be suited to every startup. Some founders may balk at the prospect of hands-on support; others just want to be left alone to get on with the job. Personalities count for a lot, and activist VCs are likely to look for evidence of humility – the ability to self-reflect and take advice on board – alongside more typical founder traits such as resilience, energy and ambition. Indeed, activist VCs often achieve the most success working with co-founded businesses where there's more likely to be a spread of these attributes.
ENABLING TOMORROW'S ENTREPRENEURS
Activist venture investors currently make up a small minority of the total field. Our analysis suggests just 5% of the total number of European VC funds can be fairly described as playing an 'activist' role – i.e. a role designed specifically to add day-to-day value to a startup's performance[2].
However, VCs that establish themselves as activist venture investors will not only create and build strong, profitable and sustainable companies; by providing proactive support, advice and access to wider networks of expertise, they'll be upskilling every founder they work with, thus playing their part in ushering in the next era of entrepreneurial talent.
From an industry-wide perspective, they'll be redefining not only the concept of an 'activist investor', but the way in which VC funding is perceived as an asset class – a form of hands-on financing that doesn't just provide rocket fuel but comes with willing co-pilots and the background support of an entire space centre.
[1] Source: Crunchbase. EUR 2-8 million Series A rounds announced in 2019 in UK, Norway, Estonia, France, Spain, Denmark and Germany.
[2] Source: Crunchbase. EUR 2-8 million Series A rounds announced in 2019 in UK, Norway, Estonia, France, Spain, Denmark and Germany.