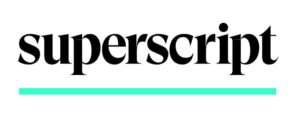 Opinion 05.08.2020
Digital Risks rebrands as Superscript
Cameron Shearer, CEO and co-founder, explains why he decided to rebrand and what makes him so excited about Superscript.
What was behind the decision to rebrand now?
It's best to start with some context: Digital Risks was created in 2015 to provide innovative, customisable protection for small businesses on a flexible monthly subscription basis.
At launch, like many successful startups, we quickly found our niche in an underserved but fast-growing segment of SMEs: early-stage, high-growth digital businesses. This set our focus on providing them with the best cover and experience possible – hence the name, 'Digital Risks'.
However, as the business grew, so did our ambition. Our highly customisable and flexible insurance solution worked well for digital businesses, but we realised it could meet the needs of other types of business too.
We've since expanded our proposition to serve over 1,000 different types of small business. So, the simple answer to this question is: we've outgrown Digital Risks.
Why 'Superscript'?
Naming a business is a mix of art, science and a bunch of personal opinions (hopefully not too much of the latter). We worked with branding firm Siegel+Gale and I couldn't recommend them more. They took us through a process that involved understanding the emotions behind character composition, the associations people have with certain sounds, and how to arrive at a decision that supports your brand purpose.
We considered over 100 options, and Superscript ticked all the boxes. We wanted something unexpected – that broke category norms. A name that was bold, memorable and could raise peoples' expectations of business insurance.
Superscript reflects this in its meaning. By definition, a superscript is a small character that's set above the line. It's about distinguishing something by elevating it, which is what we're all about; setting higher standards for businesses. Whatever their size and ambitions, we're giving them the freedom to channel their energy into what they do best.
How is Superscript different from Digital Risks?
To win in this space, we knew we needed to break free of the functional and build from the emotional. We needed a bold brand that people can get behind. We have a fantastic team culture, where everyone is fully invested in why we're doing what we're doing. Superscript is the brand that now embodies that purpose – to enable small businesses to be bold, be brave and take risks.
Digital Risks delivered on great products and great customer experience. Superscript takes this proposition to the next level.
What does the Superscript asterisk represent?
Our brand symbol, the asterisk, has strong ties to insurance; namely, the small print. It's often difficult to read and frequently overlooked. However, the devil's in the detail. The small print is important and the bold asterisk symbolises our promise to turn this around. We're elevating the details, through simplicity and transparency; making insurance easier to navigate and understand.
What do you like best about the new branding?
I love what the journey has already done for our team and partners. The energy it's injected into our business is a clear sign we're onto something great. The process of crafting the brand has forced us to articulate what makes us unique. It's allowed both internal and external stakeholders to contribute to such a fundamentally important part of the business. We've discovered more about ourselves and our customers and put that all towards shaping our identity. And, I obviously think it looks fantastic.
What's next for Superscript?
Superscript is about acknowledging all that we've achieved as Digital Risks and taking things to the next level.
Growing our amazing team from just two, to 45, has expanded our collective wealth of skills and experiences, enabling us to build on our initial goals. Just this month, we surpassed our 1000th Trustpilot review, with an average rating of 4.8/5. This is testament to the fact that in the space of five years, we've been able to build an idea into a product and service that was – and still is – much needed (and liked) by businesses.
As Digital Risks, we gained visibility and traction as a strong challenger brand. Now, with Superscript as our springboard, we're gearing up to aim higher. Our mission is to be able to share our ever-evolving customer-led offering with a broader range of businesses. To become a global leader in business insurance.