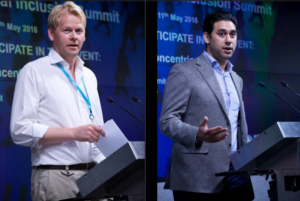 Opinion 11.05.2016
Concentric Financial Inclusion Summit
The Financial Inclusion summit, organised by Concentric in partnership with Bloomberg marks the second event in a series of events discussing and highlighting some of the most current topics across technology and business.
We decided to focus on financial inclusion, given the topic's increasing prevalence in today's world. To the untrained eye, financial inclusion might appear as a concept associated with the developing world, but it could not be further from the truth! Some of the facts and figures which we saw demonstrated that financial inclusion is indeed a world-wide problem. It's a problem which should be addressed by both the public and the private sectors (and we indeed had participants from both sides of the fence) and one where technology, as an enabler, could be of great value.
Learning from our previous experience with the ecommerce event, we are also including links to the videos from the different sessions:
This note presents the key findings and messages from the different panels, highlighting some of the unique insights we heard through the morning.
We hope you find it helpful and we look forward to seeing you at our next events and to keep the dialogue.