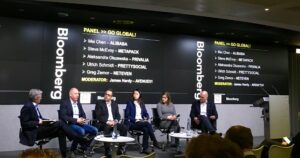 Opinion 18.03.2016
Concentric Cross-Border eCommerce Summit
Concentric in collaboration with Bloomberg conducted its first seminar on cross-border eCommerce.
The core discussion panels were represented by  leaders in their respective verticals: Alibaba, Global Fashion Group, Privalia, PrettySocial, Ebay, Neteven, Hybris, SAP, IBM, Currencies Direct, Worldfirst, Accenture, Temando, Docdata, B2CEurope and Arvato.
Presenters covered a wide range of topics including trans-continental trade, emerging trends in the global eCommerce sector, success stories from emerging markets, as well as outlook for the next 10 years.
Links to videos from the day's sessions:
A summary transcript of the event can be found here: