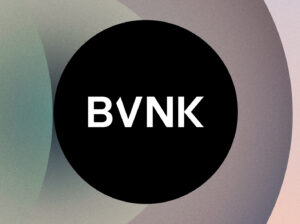 Investments 08.10.2021
Bvnk launches to set global standards for digital asset financial services
Bringing treasury and payment solutions together for the first time to serve businesses and partners
Digital asset financial services platform, BVNK, launches today aiming to remove the barriers that prevent fast-growth businesses and financial service providers from realising the benefits of cryptocurrencies. Headquartered in London, BVNK aims to set new standards for digital asset financial services from its European base.
Until now, using cryptocurrency financial services has required in-depth knowledge of the space and technical expertise. BVNK transforms this experience, making it more accessible so that non-experts can enjoy the benefits of digital asset-based financial services. Customers can manage treasury, payment and investment operations for digital assets from a single account.
BVNK offers four core services to help customers achieve their financial and treasury management goals:
The BVNK Business Account provides a simple and painless 'Know Your Business' process for access to GBP/EUR/USD and digital asset wallets. Business customers can manage settlement, exchange and payment from a single account interface, which also hosts the other two flagship products:
BVNK Yield, where clients can put their capital to work and earn interest; and
BVNK Markets for large volume digital asset trades.
There is also BVNK Insights which provides market intelligence for customers to make informed decisions.
BVNK's partnership model will support organisations such as corporate service providers, wealth managers, fintech firms, and private banks in delivering digital asset financial services to their customers via the BVNK Business Account.
Jesse Hemson-Struthers, BVNK's Chief Executive Officer, said: "In a world of low interest yields and outdated infrastructure, digital assets are rapidly increasing in appeal. Unsurprisingly, there is a clear appetite among mid-market enterprises for financial services rooted in the world of cryptocurrencies. It will take time however before mainstream banks incorporate digital assets. Meanwhile, existing crypto platforms only serve the extreme ends of the customer spectrum — that is, either small-scale retail customers or multi-million dollar institutional clients. BVNK aims to plug that gap in the mid-market and become the 'go to' choice among fast-growth international businesses and partners for digital asset financial services."
Central to delivering on BVNK's vision of fostering greater trust is its commitment to transparency, which will steer operations and the provision of information to customers. For instance, BVNK Yield deploys client funds to multiple prime brokers based on a dynamic risk model — which takes into account security, creditworthiness and risk profiles — to optimise the yields on a weekly cycle. BVNK believes that regular reporting on counterparties and exposure is as important as the returns themselves.
In 2017, the founding team of BVNK launched cryptocurrency services provider Coindirect, which has carved out a successful business supporting cross-border foreign exchange, powered by digital assets, in emerging markets. BVNK's CEO, Jesse Hemson-Struthers, formerly held the same role at Coindirect, where he spotted the market opportunity for the distinct BVNK proposition and a chance to draw on his experience in creating it. The focus for BVNK will be on innovating product features and the underlying technology infrastructure, acquiring operating licences from the relevant authorities, and developing a robust partnership model to successfully onboard financial service providers lacking in crypto expertise.
The BVNK management team brings together a wealth of experience from the cryptocurrency, fintech and traditional finance sectors. Besides Hemson-Struthers, other senior executives have held roles at Ebury, Crypto.com, and BNP Paribas.
————
About BVNK
Headquartered in London, BVNK is a digital asset financial service platform that serves fast-growth businesses and partners across Europe and beyond. BVNK harnesses the power of cryptocurrencies to create new ways for customers to achieve their treasury and investment management goals. Its core products are the BVNK Business Account, BVNK Yield, where clients can put their capital to work and earn interest, and BVNK Markets for executing large transactions. BVNK's day-to-day operations are governed by three overriding principles: a commitment to transparency; a focus on delivering accessible solutions; and a readiness to advocate for the role of digital assets in global financial systems.