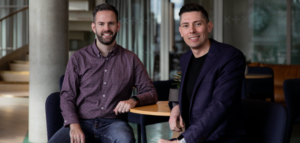 Opinion 26.02.2020
Building the new generation of SME insurance with Digital Risks
Digital Risks is the first digital challenger in the vast global business insurance market and is turning the traditional industry on its head by using technology to give customers more control over their insurance cover.
A Concentric-backed startup, Digital Risks has thrown away the concept of annual insurance contracts and is setting new standards for business insurance with flexible and affordable, highly personalised subscription-based cover for SMEs.
 Having recently completed its $10.4m Series A funding round, we sat down with Digital Risk founders Cameron Shearer and Ben Rose to hear about the company's mission to become the new global leader of SME insurance.
Can you tell us about the issue(s) Digital Risks solves, and the approach you've taken? 
CAM: Digital Risks was born from a place of personal frustration while trying to find insurance during
my time in advertising. We managed a lot of data globally and had a growing technical liability, but we really struggled to find a broker that understood our business.
BEN: I was working for a leading global insurer at the time and was able to cover Cam and his business, but we could see from his struggle that there was a gap in the market for a new breed of insurance – one that understood the emerging risks of modern businesses, and that could be delivered in line with today's digital expectations.
The heart of the problem is that business insurance is generally sold online in bundles by individual insurers, despite the fact that they don't really want to underwrite all of the different risks. What they'll do is charge higher overall premiums to account for the areas they're less comfortable covering. We've taken a different approach and built tech that unbundles the risk areas and matches each individual risk across a specially selected panel of underwriters. This way, the underwriter only covers the part of the customer's risk they really want to cover, and hence will provide more comprehensive cover at a more competitive premium. Our UI then re-bundles everything into a single monthly subscription. We're the only online insurance provider in the world that does this.
CAM: London is the insurance capital of the world, while Ben's on-the-ground insurance network gave us a real advantage in terms of signing up initial commercial partners. There's also a large and fast-growth SME sector in the city that has been underserved by traditional brokers, so with all of these things combined, London was the logical place to launch. We've created a full suite of covers for small businesses and used technology both to solve distribution efficiency issues and to deliver a customer-centric offering and experience unlike anything else on the market.
Tell us about the journey from initial concept / idea to where the business is today. What's the journey been like and what are the biggest challenges you've faced? 
BEN: We've come a long way in the past five years – from signing up our first partners to working with over 20 different insurance carriers in 2020 and expanding our highly tailored offering to more than 750 different trades. Diversification is one of key strengths and so we're hoping to continue expanding in this way – it's a challenge that relies upon continuous learning, but this process is what sets us apart by enabling us to fully understand each business we support.
CAM: For me, there are three challenges that stand out. Firstly, finding the right investment partners to support our growth – particularly as we expand across Europe. Secondly, identifying the best channels for customer acquisition and getting the balance right between things like paid media, brand development and partnerships. Thirdly, localisation, and the difficult in navigating the nuances of local European markets. In each case, they're ongoing challenges rather than specific hurdles to overcome, but continuing to solve them means the business is continuing to flourish.
Your business has developed a standout company culture. Can you outline what this looks like and how you set about achieving it? 
BEN: Great culture stems from having great people and, crucially, having a diverse mix of people. We've been able to bring in some amazing talent, particularly in the past 12 months, and while specific roles required deep insurance experience, our strategy has always been to achieve the right balance of people from both within and outside of the sector to bring in new perspectives. Today our team of 24 is made up of 7 different nationalities across 5 continents; we have hired regardless of race, cultural background or sexual orientation; and we have also built a multigenerational team because, as young(ish) entrepreneurs, we still believe that knowledge and experience is as important as young blood for us to succeed.
CAM: Our culture also comes from a shared passion and belief in our proposition. Insurance can sometimes be quite a dry industry, but we've built a team that is genuinely excited by what we're able to offer businesses and the support we're providing them. Having people buy into your
vision, commit themselves to the cause and still say "this is the best job I've had" – this is something that makes us incredibly proud.
BEN: We all celebrate the wins together, and we all double-down in times of pressure. We are also a socially responsible business, and empower our employees to volunteer for their chosen charities during paid work hours. We are also looking to support company-wide initiatives, and have engaged the team in identifying activities and charities we would support through volunteering or fundraising.
You've just closed your Series A funding – what does this mean in terms of where you go next? 
CAM: There's incredible scope for growth in both the short and long-term. The UK insurance industry is the largest in Europe and the fourth largest in the world, and the reality is that SMEs everywhere are sorely lacking in access to the insurance cover and support they require. With 5.7 million digital SMEs in the UK alone and our funding now in place, we're confident of meeting our goal of ten-fold growth over the next 12-18 months.
BEN: Our offering has been built around customer-centricity and personalisation, and these elements will continue to be key for us as we expand. At a time of increased automation in the insurance sector, often at the expense of better understanding individual customers' needs, we can continue to stand out by taking the more personal, tailored approach.
How do you ensure Digital Risks' product offering remains industry leading, and how are you scaling it as the business grows? 
CAM: The insurance industry is heavily intermediate. Product designers tend to be disconnected from the customer. What we've done is to shorten the supply chain and bring our product innovation closer to the people who are using our product. We take insights from highly-innovative customers and feed them directly back into our product development. This allows us to jump on emerging risks far quicker than the incumbent market. Our closer relationship with capacity also means we can bring new products to market much faster – we're talking a few months, whereas it can take incumbents over a year.
BEN: Carriers (insurers) have developed appetites for certain risks they want and don't want. This leads to a product-led approach in which innovation is constrained within the boundaries of what the carrier is willing or able to offer. We take a customer-centric approach, and then look to source an appropriate underwriting solution. Our technology also allows us to manage multiple carriers for a single customer. This is highly scalable; we can easily extend our offering across new risks, different sectors, and new geographies.
What role do partnerships play in growing a B2B business in a sustainable manner? 
CAM: For us, having a balanced acquisition strategy is important to building a robust business. It means we can withstand changes in markets, technology or even another updates in the latest Google algorithm.
Partnerships is a key channel within this because it greatly enhances our proposition. Customers typically want things to be easy, but not constantly "in your face" – offering up the right cover, at the right time, and in the right place is the best way to achieve this. That means you need to understand your customers' many, many journeys and find the right touch point to integrate with. This means working with partners.
BEN: From a sustainability perspective, executing with integrity is the key. Bad partners will partner with anyone and can damage your brand. Good partners will want to see you have a well-considered offering. They don't want to damage their brand.
In what ways has Concentric supported you on the journey thus far? 
CAM: Cash aside, having an investor that understands your market is critical, and Concentric occupies this role for us. They have been a highly active partner, able to feedback insights around the SME space based on their extensive network, and have supported numerous introductions, one of which ultimately led to our Series A lead investor.