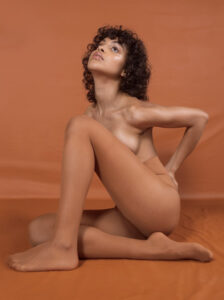 Opinion 03.10.2021
Are your tights destroying the planet? Natasja Giezen Smith talks to Vogue Magazine.
Heist Co-Founder Natasja Giezen Smith talks to Vogue Magazine about how they developed sustainable tights.
Hosiery and shapewear brand Heist began using recycled nylon to produce its tights in 2019. "We wanted to focus first and foremost on the product category most likely to end up in landfill," the brand's CEO, Natasja Giezen-Smith, explains.
Using recycled yarns does have its obstacles, though. "There's a huge demand for sustainable yarns," Giezen-Smith continues, adding: "It took time to develop Heist's sustainable tights styles and match the quality of the wider collection, but we got there, and the recycled yarns are just as soft, stretchy and durable."
Heist's ultimate goal is to ensure its tights are fully circular. "We are tracking the developments in materials closely and will continue to innovate and make better, more eco-friendly tights whilst maintaining our high quality, durable products," Giezen-Smith adds.