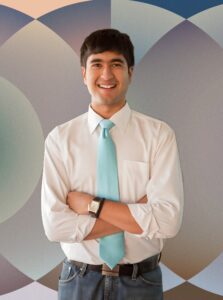 In conversation 22.02.2022
Riding the Latin American ecommerce wave with Merama with Sujay Tyle
Frontier Car Group Co-Founder, Sujay Tyle, hasn't wasted any time in building his next success story. Founded in December 2020, ecommerce platform Merama is conquering Latin America by acquiring and scaling some of the best retail brands across the region. In just 12 short months, the business has achieved unicorn status after completing a massive $225 million Series B round, quickly followed by its recent $60 million Series B follow-on investment.
We caught up with Sujay to find out about the unique ecommerce opportunity in emerging markets, and how working capital is the key to getting ahead as global supply chains feel the strain.
What is driving the current ecommerce boom in Latin America?
Ecommerce in emerging markets is exciting for a number of reasons. Firstly, there is a rapidly rising middle class, which has garnered more and more wealth, and in doing so, boosted the lower class too. Secondly, technology has improved and become more accessible, which means that more people have smartphones, internet, and credit cards to transact online. Then thirdly, more and more startups and VCs are entering these countries, bringing much needed innovation and funds to the ecommerce space.
For the first time, people in these countries can transact from the comfort of their homes, pay with a credit card, and have safe delivery. And for Merama, that opens up two important markets. Firstly, people can order basic products online, like dumbbells or a t-shirt, do a cost comparison, and compare quality. But secondly, there is now a younger, more affluent population that wants trendy, more emotionally driven products, which are now available for the first time in Latin America. Both sides of the market are helping to power our brand.
How does your business model differ to that of brand aggregators in Europe or the US?
It's a totally different game here to in the US and Europe, where there are so many businesses who are buying hundreds of ecommerce brands. That model makes a lot of sense in those regions, where you have very fragmented ecommerce market; 50,000 businesses on Amazon in the US sell a million dollars or more. It's very fragmented and very profitable, so it makes a lot of sense for aggregators to acquire 50, 100, 200 or 300 brands and just grow them all a little bit.
But because the ecommerce market in Latin America is so nascent, there are only a few brands that are developed enough, and it's those brands that are dominating categories and have a big moat. So, our concept is to take a single brand in a category and scale it, scale it, scale it. Where a lot of businesses in the US are 90% M&A and 10% growth, we're 10% M&A and 90% growth. We're not trying to collect as many brands as possible, we may only have 20 or 25 brands in our entire evolution. But our entire focus is on building and scaling the few most meaningful and quality brands in Latin America.
Ecommerce is extremely competitive, with both new and established brands competing for the attention of customers, particularly following the pandemic. How can new up and coming brands gain cut-through with consumers in this environment?
Ecommerce brands in Latin America face a lot of challenges that those in the US don't. An easy example is working capital. In Latin America brands don't have access to capital to scale their brands and buy inventory, which means that the most popular brands run out of stock halfway through every month and, with current supply chain challenges, have to pre-order stock 75 to 100 days in advance. Most brands can't afford that. In the US, it makes sense for banks and platforms to loan brands money because it's considered relatively low risk. But in Latin America, it's still tough and extremely expensive.
Expanding to new countries is challenge number two. The majority of the brands in Latin America only operate in one country, because of issues with supply chain, warehousing, branding and language. It's not as simple as just starting a website in Peru. Then the third challenge is technology. There is no single platform in Latin America to help scale ecommerce brands; to help them manage demand planning in the warehouse, to handle supply chain, marketing, personnel, and all those operational issues.
So, there are consistent issues that brands in the US don't have to face and it's in these areas where we are totally overhauling the system, loaning a lot of money to our companies, expanding them to multiple countries, and building the entire tech suite to automate their operations.
You've just completed a significant follow-on investment at a valuation of $1.2 billion. How does it feel to become Latin America's latest Unicorn, and what's the focus for this latest investment?
It's a proud moment for us – we were able to take a brief moment out and celebrate the announcement in Times Square, which was fantastic! More importantly, our recent funding rounds reaffirm our business model and the size of the market opportunity.
We believe several multi-billion dollar brands will be created in Latin America over the next five years, and the new funding will help us accelerate our expansion into Argentina and the US. We're also planning to launch Merama Labs, our own in-house incubator for direct-to-consumer brands that we will use to develop new digital brands in categories like fashion, cosmetics, supplements and beverages.
What differentiators does Merama look for in the brands it invests in?
In Latin America a lot of retail sales are still offline, so one of the biggest decisions we have to make is whether a brand is going to exist primarily in stores or whether it can scale to online. Because it doesn't make sense for us to be a business that sells primarily retail because that isn't where growth is going to come from.
One of our other big considerations is that we really want to invest in the entrepreneurs that are running these ecommerce brands, not just the businesses themselves. So, unlike a lot of the businesses in the US that are simply trying to buy 100% of the brand outright, it makes more sense for us to really evaluate the whole team, much like a venture capital firm would. So, we spend a lot of time with the teams and really partner deeply with all of them.
The third factor is financial. Is this a market category that's growing? Is it a product that has high margins? Those are the three biggest things that we look for.
What is the future of ecommerce – direct to consumer, or marketplaces? Or a combination of the two?
Probably the best way to think about it is to separate emotional brands and functional brands. It's a little bit crude because there is more nuance, but with a brand like a treadmill or home goods, you're effectively looking at more functional brands, which you buy off a marketplace like Amazon or Mercado Libre because you like the quality and the price.
Then at the other end of the spectrum, are emotional brands like fragrances, fashion, beverages, or cosmetics, where there is sometimes a mismatch between price and utility. But emotional brands are influencer driven, so you buy them on their own website, and you buy them because you like that brand, rather than just because it has the best price.
In Latin America, I think a lot of the growth is going to come from solid, emotional brands selling direct to consumer, because that market is just so nascent in the region. But I think functional, marketplace brands have a long way to develop too, and it would be naïve to think they won't still play a role.
How are Merama's brands overcoming current global supply chain issues, sparked by the pandemic? How does being part of an aggregator like Merama help?
Global supply chain issues are affecting everyone, and I think it's going to get worse before it gets better. As ecommerce is taking off, the sheer number of container ships coming from Asia to Latin America is growing extremely quickly, and local manufacturing is still way too nascent.
Overcoming these issues goes back to working capital, which is the biggest issue in Latin America. But we've shown that we're able to help with this – for example, we were one of the only groups of brands that managed to stay fully stocked this holiday season, which is a major achievement.
We have good enough demand planning technology and tools to predict the supply we need and make sure it's fully in stock at any point. It's becoming a significant advantage, and we're getting to the point where for a brand to stay competitive in Latin America, they will have to work with Merama.