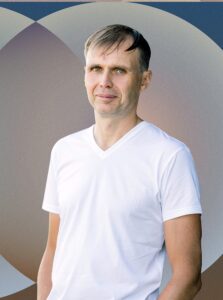 In conversation 22.02.2022
Q&A with Insly CEO Risto Rossar
Insly raises bridge funding to make selling insurance simpler
Concentric recently supported one of our existing portfolio companies – the innovative insurtech Insly – with a round of bridge funding, taking its total raised to €4.3m to date. Founded in the UK, but with its biggest development centre in Estonia, Insly has built simple and intuitive software designed specifically for the complex needs of insurance brokers, MGAs and insurance companies. It is now used in over 52 countries around the world.
Here we talk to Risto Rosser, Founder and CEO of Insly to find out what makes the company different and what this latest funding round means for the business going forward:
Who are the people behind Insly and what led you to create the business?
The founders of Insly have worked together for more than 10 years. We were part of the core team that established the first online insurance broker in Estonia, IIZI, an experience which opened our eyes to how much the insurance industry was lagging behind in terms of technology. We founded Insly because we realised that we had the technology as well as the experience to help digitise all insurance businesses. We initially developed an SaaS solution for brokers, before diversifying to sell the software to a whole range of providers, including agents, MGAs and insurance companies.
Lots of startups are aiming to disrupt the insurance space. What makes Insly different?
Insurance is a big industry, so it is very normal that lots of companies are on a mission to change things. What makes us different?
We don't sell insurance, we sell technology. So, we empower others to sell more. Most insurtechs go into distribution.
We have developed extremely easy to implement and use software. The inherent complexity of the insurance sector makes that a rare thing indeed.
We don't just provide software, but also access to a marketplace. Our platform enables our customers to distribute their insurance products to other Insly users. For example, if you are an MGA in the UK providing cyber insurance, then Insly first and foremost acts as your internal sales and policy administration tool. More than that though, through our marketplace, clients also have a way to deploy that cyber insurance product into the 600+ agents (and growing c.20% MoM) across Central and Eastern Europe who are also on the platform. No other software offers such a solution.
What are Insly's biggest successes so far?
With over 700 customers across 52 countries and €2.5m in revenue, we've achieved a lot with relatively small amounts of investment so far. No other teams in the industry understand the problems experienced by different elements of the value chain like we do and so we believe we're positioned well going into 2020.
Tell us about this latest funding round – how will this help to take the business forward?
This round will help us to launch a fully configurable policy administration system for insurers and MGAs (our previous version required too much custom development) and expand our business in Poland, which has been growing at a rate far beyond our initial expectations.
Where do you predict that Insly will be in five years' time?
Our goal is for our software to be used by over 10,000 insurance businesses around the globe, not only to make their own processes hyper efficient, but also to enable them to trade with one another. We aim to become one of the biggest insurance platforms in the world.
What are the benefits of having Concentric as an investor?
Concentric is a very active investor, always ready to support and debate key decisions. They always come prepared, bring value and I truly feel that they are part of our team.