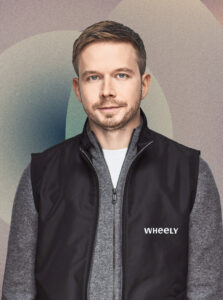 In conversation 24.10.2021
How Wheely is putting privacy at the heart of its business. Anton Chirkunov, Wheely
Luxury ride-hailing service and Concentric portfolio company, Wheely, hit the headlines in 2020 after it fought and won against the Moscow Department of Transportation. We caught up with founder, Anton Chirkunov, about what was a landmark year for the company, how it has bounced back from the pandemic, and why he's putting privacy at the centre of the business model.
Why is Wheely different to the multitude of other ride-hailing services out there and why should customers care?
No on-demand car service exists that makes the passenger feel as good as they do with a private chauffeur. And managing a full-time chauffeur is a hassle (they get sick, they have availability restrictions, they need vacations, they can get relaxed and over-familiar, etc).
Wealth creation is accelerating and the number of HNWIs has increased by 3.5x since 2000, and is expected to almost double again by 2030. These customers are willing and able to pay a premium for what they care about, and service and privacy are only becoming more important to this global elite.
In particular, there's growing public awareness re: just how sensitive and vulnerable passenger journey data is, so addressing this will be a key differentiator for us as we grow. And now we've built the brand, platform, and processes to scale quickly to major cities around the world, we are ready to capture demand from HNWIs over the coming decade.
How has Wheely responded to Covid and what impact has it had on the business?
While lockdowns temporarily stunted our growth, we saw a full V-shaped recovery within a month or two of each re-opening (even faster following the Q4 restrictions, as we're already back to baseline). We see no negative changes to long-term demand or growth rates.
Near the beginning of the pandemic, we added an option to book chauffeurs for white glove pick-ups and deliveries, which has helped engage our core clientele and strengthen loyalty.
We also recently launched a per-hour / per-day bookings pilot in St. Petersburg, which we'll be expanding to all markets in January.
What is your vision for the future of premium ride-hailing?
We believe end-to-end encryption will be the norm for ride-hailing within 10 to 15 years, because (a) human movements are incredibly sensitive, (b) it's an escape route from increasingly data-hungry transportation authorities who've started to request passenger trip data for "experimental reasons". In the interim we've built our credibility by refusing to hand over this data to Moscow's Department of Transportation (where our local competition did hand it over). But our competitors will resist this transition for as long as they can, and affluent users will lead the demand here.
What are the current regulatory issues and how should ride-hailers work with regulators?
Ride-hailing services face a number of regulatory hurdles, which vary depending on the location where you operate.
For example, some authorities place caps and freezes on total vehicle quantities (e.g. NYC), time-lapse requirements (e.g. the 15 minute wait requirement in Barcelona), and/or entry restrictions (e.g. minimum fleet size for licenses, or high taxes on foreign vehicles as in Singapore).
From a data protection perspective, some city authorities are increasingly data-hungry. Strong data protection laws (GDPR in UK/EU, CCPA in California, LGPD in Brazil) make it more difficult for cities to demand sensitive personal information, and thus less risky for us to move in.
We also need to consider employment laws. While professional chauffeurs generally prefer to work as independent contractors, a minority of drivers in a given city could (a) lobby politicians to legislatively re-classify them as employees or (b) seek re-classification via courts.
Finally, some cities impose strict ecological requirements on ride-hailing vehicles (e.g. max vehicle age, CO2 emissions caps, or being zero-emission capable). These can be uneven. For example, while Wheely vehicles are newer and cleaner, Mercedes-Maybach cars are not part of our fleet in London because the manufacturer offers no hybrid model.
What are your growth plans for next two years?
2021 will mostly be a year of stress-testing and honing our systems as we enter our hypergrowth phase. Focus will be on scaling up London and Paris and entering either Los Angeles or New York, depending on a variety of factors including data sharing requirements. We then plan to expand our US operations into Chicago, Miami, and Washington, DC in 2022.
Finally, we will be rolling out our three-day Chauffeur Academy, which condenses best practice and will make it much easier to maintain a consistent, outstanding service as we expand into new cities.
What are your funding plans?
Success in our current locations means that we only need funding to expand into new geographies. We plan to fundraise for this in 2021.