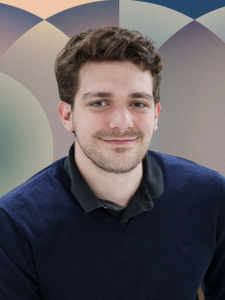 In conversation 02.08.2023
Houst 2.0: Founder, James Jenkins-Yates, On Thriving Post-pandemic
Houst, the short-let management business, was amongst the hardest hit during the pandemic, unable to trade for over two years. We caught up with founder and CEO, James Jenkins-Yates, to hear how the company not only survived, but has emerged even stronger – and with an exciting new business strategy in the pipeline.
The pandemic obviously hit Houst hard. How did you manage to survive?
We had to be very agile in the decisions we were making. Right at the beginning there was a hesitancy to furlough absolutely everyone, and I didn't think that was an option, but then over time I realized that there was literally no business – it was illegal to run my business. That was a weird realisation.
I also had the financial realisation that every penny spent was now lost, as there was no revenue. So, we eventually decided to furlough absolutely everyone. I was also stuck at home when I was used to being in the office, so I was making these decisions from a laptop rather than a meeting, which was quite strange. But you quickly adapt to a new reality.
During that time, we also worked on the unit economics of the business, cutting costs, making things more efficient, improving customer service – so that was the positive side to it, we were able to improve the business in some ways and emerge leaner than we were before.
Once we could see the other side, restructuring the business became a possibility. Although getting to that point took a lot longer than expected. Initially we thought it was only going to be a few months and then it ended up being 2020, 2021 and then half of 2022. So, it was 2.5 years of not much happening and losses amounting to millions and millions of pounds a year. It became apparent that we couldn't operate with that kind of loss, so we had to find a way of mitigating that.
It must have been a big psychological test. How did you feel about the restructuring process?
That's when everything became more positive because I finally saw a way out. Before that, it was questioning where's the direction, what's the angle, how do I get out of this conundrum? We were also lucky that just before covid we had bought one of our competitors out of administration, which gave me connections and an understanding of what happens during a restructuring. That helped me to see a way out of the situation, rather than just shuttering the doors, while also ensuring we didn't wipe out our investors, which is often the case with these sorts of things.
What lessons did you take from the pandemic and restructuring that could be valuable for other entrepreneurs?
One is probably to keep your ego in check. Because no matter how good you think your business is, something can come along and destroy it in a moment. I think people who start businesses and get lucky can sometimes think a lot of themselves, and that was probably me to a certain extent before Covid. It led to a reduction in ego in a very healthy way.
On the other hand, I also think it's important for entrepreneurs to learn is that even if it looks like everything is falling apart, there are options to keep innovating and keep going, even if you've run out of money. If you've got an underlying business, then it's not that bad. Understanding corporate financing can also be useful, so you have an awareness of the options available.
Another one is that you can be more adaptable than you think. You can do a lot with a little, both financially but also with fewer people, even if it might not feel like you can. And actually the more people you have, the less efficient it becomes by its very nature because the communication needs to increase, and that has a cost to it.
Your team is more international than it was pre-Covid. What challenges does that bring?
The business is very much the same but also quite different. We offer the same service, to the same clients, but whereas before we had a team of about 150 people in the UK, our team are now spread all around the world, with only 50 employees in the UK. So, we have a much smaller office and most of the customer service, guest experience, and operational roles are now in South Africa and Malaysia. That allows us to be profitable.
This structure comes with its challenges, as we have 66% of our staff working remotely. This is a bit different than if you have the whole team working remotely, as we have two different working styles within the same company. And doing both is actually quite difficult. But we're trying various strategies to understand the best approach to making that work.
You have an exciting new initiative to announce. Tell us about it, and the drivers behind it?
Yes, we're going to start letting people run competitors to us, by launching a global franchise. So, anybody who wants to start a short-let management business can use our expertise, our marketing, and our tech, to help themselves do it. So, if all goes well, we will soon have local Houst branches, such as Houst Bristol, or Houst Miami, alongside our main Houst brand.
The reason behind it is that I think when you put accountability at a smaller, more individual level, that leads to much better results for the client. As I mentioned earlier, once you have lots of people involved in something, the abstraction away from the actual problem becomes greater, in terms of money, time, and everything else in between. Whereas if you can modulise it and focus a group of people on a smaller problem, you can get more done quicker. That direct accountability to the client is hugely valuable to them and to the business.
So, we're currently looking for franchisees to join that journey with us. Prior experience isn't necessary, but you must be highly motivated to manage these properties and take a pride in doing that. Plus, you must invest physically and financially into the franchise. That financial incentive is hugely important to success, as franchisees could easily make $100,000 or even more a year.
It's still in the early stages, but we're excited to make it happen!