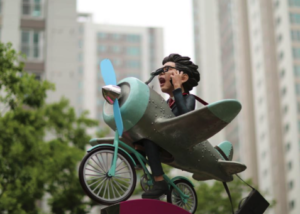 19.10.2022
VC's Were Seen As A Bit Weird: 20 Years In European VC
The Financial Times recently declared that the venture capital "party is over". But as the sector gets to grips with a more challenging economy, it's worth reflecting on how far we've come – particularly here in Europe.
The size and profile of the European venture ecosystem have grown to such an extent that you would think it has always been as vibrant and diverse as it is now. But, when I was a co-founder of an early VC firm, DN Capital, in 2000, the sector was still in its infancy, unrecognizable from what exists today.
From tech desert to tech hub
Today, Europe's tech startup and VC sectors are arguably only a few yearsbehind Silicon Valley, so it's hard to believe that the US had a 50-year head start, with its first VCs emerging in the 1940s. In contrast, European investors missed the PC wave, the software wave, and most of the internet wave, focusing their energies and funds on traditional industries, while overlooking the potential of emerging tech.
Entrepreneurship wasn't considered a profession, with top talent going into banking, FMCG, manufacturing, and other traditional sectors. Meanwhile, any brave tech founders would quickly head off to Silicon Valley for the funding and support to expand. As seasoned VC, Saul Klein, said recently: "many people considered Europe a frontier market, not even an emerging market."
From weirdos to trendsetters
VCs were a rare breed in Europe 20 years ago, but now the sector has become hot property, with numerous non-venture players from the worlds of private equity and asset management entering the market. It's also a sought-after career path, with bright new graduates competing for a small number of entry-level roles.
Hard to believe that back in the '90s and early '00s, we were seen as the odd one out amongst the asset classes and, if I'm honest, most other investors thought we were a bit weird. Nobody quite understood the motivation to invest relatively small amounts in unknown businesses, only to be faced with lots of problems and uncertainty.
Unlike the hoodie and jeans culture of today, the first wave of VCs were generally ex-accountants or bankers, wearing suits and ties, and sourcing potential deals via other professional service firms with exposure to fledgling businesses. It was very unstructured, there was no ecosystem to speak of, and we spent a lot of our time explaining what venture capital actually was!
'Vulture capitalists' to value-add
There was certainly little or none of the value-add from VCs that we see today. Nowadays, some venture firms have whole teams dedicated to supporting startups in growing and developing their businesses, through recruitment, consulting, mentoring, networking, operational support – and beyond.
But this is a relatively recent phenomenon, with the first European VCs concerned about the 'harbor rather than the journey', only turning up to board meetings to get a status rather than provide any kind of support.
Most VCs had little experience and understanding of the bottlenecks and challenges that entrepreneurs go through, so it became an 'us and them' relationship, with VCs dictating terms and entrepreneurs feeling resentful. Not a particularly healthy dynamic, for the most part.
Changemakers
Things only really started to change throughout the '00s, as pioneers such Index Ventures, Balderton Capital, and Accel introduced some of the Silicon Valley mentality, and the industry gradually started to take shape. The rise of Skype, Europe's first real Unicorn, gave European founders and VCs the belief that you could build a successful tech company here and tech founders started to become 'celebrities'. Entrepreneurship morphed into a desirable career, and VCs moved up the food chain, helped by specialist media that boosted public appeal and understanding.
The first few successes bred more success, as companies like Skype, Rocket Internet, Revolut, and others have become breeding grounds for the next generation of entrepreneurs and VCs. This 'flywheel effect' means that future founders benefit from access to capital, experience, and knowledge on how to build companies, and we now have a conveyor belt of second and third-time entrepreneurs. Having done it before, these founders know the pitfalls and playbook for building companies, with access to multiple pockets of capital.
LPs need to catch up
Today, the only fly in the ointment is on the LP side, where the depth of capital isn't quite there yet. While family offices have embraced VC in recent years, there is still a real lack of institutional support from pension funds, endowments, and to some degree corporates, and the high proportion of state support (50 to 60% of all VC funding) can skew the markets towards sectors with predominantly R&D and employment benefits.
Shallower funding pools mean that most bigger ticket rounds involve US-based funds, and we have a void in sectors that demand larger cheques and longer investment periods, such as deeptech. This means that we're missing future leaders in mission-critical and societal-dependent infrastructure, such as fiber, semiconductors, quantum computing, and power electronics, to mention a few. Meanwhile, many founders still sell out too early, not helped by the lack of an equivalent to the NASDAQ in Europe. We haven't yet proven that we have what it takes to build the next Google or Apple.
A new chapter
But we've proved the naysayers wrong time and again with our ability to support, nurture, and back innovative solutions and entrepreneurs. Twenty years ago, nobody believed in what we were doing, yet European VCs have now been instrumental in backing major companies and brands, ranging from Asos to Spotify, and VC has become an important and integral part of the financial system in Europe.
Now, as scaling businesses becomes tougher than it has been for a few years, I'm confident that venture craftsmanship will prevail. The best is yet to come, and if we continue to build on the fundamentals of strong analysis, due diligence, and having a proactive, 'activist' mindset, we will prove the naysayers wrong yet again. There is an avalanche of great entrepreneurs that are looking to build the next category-defining – and world-changing – companies, and VC is critical to ensuring they succeed.