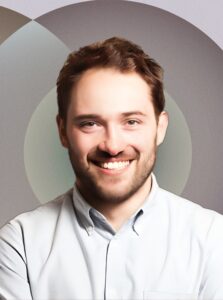 In conversation 22.02.2022
'Our main focus is delivering added value for members': interview with Huckletree co-founder, Andrew Lynch
Huckletree co-founder Andrew Lynch joined the business on a Monday morning in May 2014.
The next day, he toured the Alpha Beta building in Shoreditch, just after finding out his wife was expecting their first baby. On Thursday of the same week, Huckletree co-founder Gaby Hersham found out she was pregnant. On Friday, they signed the lease for Alpha Beta – the co-working operator's second office.
"Holy moly, that week was mental," he says. "It was such a whirlwind."
Lynch joined Huckletree full-time from Cambridge Associates after a year of conversations with Hersham. "I was really bored of wearing a suit and tie. Gaby had opened the Clerkenwell office and raised a round, so when the business was in a position to scale up, I came on board full-time to help make that happen."
Five years and four babies later, the business operates eight offices across London, Dublin, Manchester and Oslo. These include 30,500 sq ft at Stanhope's White City campus, with another 13,500 sq ft about to open on the site, and 26,000 sq ft at the newly restored Express Building in Manchester, which opened late last year.
So what's the next step for the business and what impact does Lynch think Covid-19 will have?
Unlike some rival flexible workspace operators that have grown rapidly over the last few years Huckletree always wanted to be the tortoise rather than the hare. "We never really wanted to grow too quickly," says Lynch.
"Some competitors have taken huge square footage in recent years, but I've always thought you lose your soul a bit every time you try and get one of those big slabs of space.
"Our main focus was delivering added value for members, and we didn't think we could do that if we went too hard on the real-estate side. Trying to massively explode the business, signing leases willy-nilly and scaling up rapidly, wasn't a model we were comfortable with then, and evidently the market still isn't comfortable with it now."
One way the company tries to offer added value to its members is through community benefits such as regular events and talks and an incubator programme for fledgling businesses. Its co-working space is pitched at a higher price point than that of some rivals, but Lynch says this is necessary to make the model work.
"There have been some very aggressive marketing tactics in recent years from a US operator in particular," he shrugs, referring to but not naming WeWork. "Some people react well to being sold to like that when their key priority is looking for the lowest number."
Lynch says he quickly realised that Huckletree couldn't afford to be cheap and needed to be worth more to its members.
Added value
It was this ethos of providing value to members that was behind the launch of new product Places last year. Two of its longest-standing members had outgrown their space at Huckletree's White City site, but wanted to stay with Huckletree. This led to Huckletree signing for an additional 13,500 sq ft on the campus where these members could have their own headquarters space and fit-outs, but operated by Huckletree.
Eventually, Lynch expects Places to represent a healthy chunk of Huckletree's portfolio, but rather than go out and find space pre-emptively, he says the business intends to work with members to find space to suit them when the time comes to move into their own space.
As well as ensuring Huckletree isn't pouring resources into the speculative acquisition of space, this approach derisks arrangements with landlords as the member "essentially underwrites" the lease. "We can sign an agreement guaranteeing revenue from day one."
Another benefit of the Places model is that it suits small occupiers, which are increasingly looking for unique space rather than the identikit co-working fit-outs offered by others.
"We design the spaces with each Places member," says Lynch. "It's resource-intensive in one sense, but you need to look after people. It means they're not getting a Tetris-like off-the-shelf product; people aren't looking for those mass-produced spaces."
Another plus is that the larger workspaces in the network retain the experience of "some of the older, tenured teams" in the community, so "it's not just a room of early-stage start-up founders talking to each other", he adds.
That's not to say that all Huckletree members stay with the brand for the duration; the business's average tenancy is 18 to 24 months.
"We love churn, as it stops the dynamic from stagnating. The worst thing would be for the community to stay the same for several years."
Huckletree had planned to continue expanding its Places and co-working offices this year but, like many, has put its plans on hold during the Covid-19 pandemic. It's been a tough few months for the co-working market; Lynch was one of 30 signatories on a letter to chancellor Rishi Sunak asking for business rate relief for operators that were still having to pay their rent and keep their offices open but suffering from diminished income from their own members.
Lynch says the business is in talks with its landlords to come up with rent-payment plans to get through the pandemic but its Oslo office may need to shut as it has not been able to reach an arrangement with the landlord.
"We've had decent clemency with most of our landlords, which is testament to the relationships we've built over the past five years," he says.
"They know we add something to the overall site, which puts us in a better position when you're looking at all the jazzy stuff we're putting in leases now to make them work."
New arrangements
The arrangements on the table range from deferrals to monthly payments and, in some cases, signing revised leases with the same headline rent, but with 10-20% blended off the term, in essence adding a typical rent-free period back into the mix.
Its own income has taken "a pretty big hit" during lockdown, mainly due to smaller business tenants falling by the wayside.
There is light at the end of the tunnel, though. Lynch says enquiries fell by 85% in March, but as of late June had shot up by 129% as lockdown restrictions were eased.
In the aftermath of Covid-19, he doesn't think the co-working model will ever be the same, not least because the density-based models of some operators won't be safe to run for some time.
"The 'pack 'em in, stack 'em high' density play needed to be broken, and I think Covid has accelerated that," says Lynch.
He adds that it might sound "cheesy", but Huckletree is reimagining what its offices will look like in future.
"We think it's going to be more about how you work than where you work, so I think we'll have to double down on that community and curation piece and people's need for face-to-face interaction.
"I know lots of one-man bands that would be lost without their hot-desk membership because it gives them a bit of purpose.
"I also think people need to be able to unblur the lines between work and home lives – I don't even know what day it is half the time at the moment."
As it reopens its offices, Huckletree has sent guidance to all its members outlining the safety measures that have been put in place, which include a reduction of hot-desking spaces and a "creative refresh" of some of the space.
For now, Lynch says the priority is securing agreements with its landlords and keeping its members safe and happy.
Whatever Huckletree's future looks like, it intends to keep community at the heart of its operation, however socially distanced that community may be.