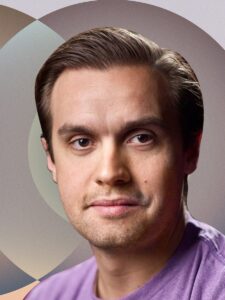 In conversation 14.03.2022
Championing cultural diversity and getting people back into the world with Billetto
Over the past decade, Billetto has helped more than 44,000 event organisers across 14 different markets to plan, promote and sell tickets. Driven by a mission to 'make people go out more', the self-service ticketing provider is emerging from the pandemic with its profitability and reputation enhanced, and with a renewed commitment to help independent organisers share their passions with the widest possible audience.
We caught up with Billetto CEO Patrick Borre and Chairman Joe Cohen to learn how the company has successfully navigated two years of mass event disruption, and why its newly launched advertising product is already exceeding expectations.
Take us back to the beginning. What was the inspiration for Billetto, and how has the business evolved over the years?
Patrick: Our original goal was to take the power away from the ticketing agents and give it back to the event organisers. When we started, there were no self-serve solutions available in the Nordics. We saw an opportunity to provide greater choice in the existing market, as well as tapping into the nascent market for experiences.
Joe: If you're a small or mid-sized event organiser looking for a self-serve platform, there are very few choices that are robust enough to rely upon. Before Billetto, most organisers were either forced to choose between complex enterprise-class solutions or low-grade technologies they couldn't trust. This is the gap we've been able to plug.
Patrick: Remember that for this audience – the long-tail of the events sector – 80% of organisers' tickets go unsold. We knew that self-serve could make a difference to these organisers. We wanted to target this segment specifically because it is the market area that truly delivers cultural diversity.
How has the ticketing market evolved since you started the business?
Patrick: We've seen more and more specialisation into different verticals, for example, providers focusing purely on festivals. It's great for large festival organisers, but what tends to happen with this type of specialisation is that the products become too complex for small to mid-sized events in the independent, sub-culture sector.
Joe: The events world is vast. Pretty much any social occasion could be badged as an event and ticketed. We've chosen to focus on consumer events rather than entering the corporate events space, which is very crowded.
How difficult has it been to uphold your core mission of making people go out more during the pandemic?
Patrick: Well, the consumer demand has been constant – it's been more a question of whether governments have allowed supply or not! We know people want social contact, but of course, we can't be more open than governments allow. Where 2021 was slightly different to 2020 was that governments were generally being less restrictive and for shorter periods.
Joe: We're probably the only ticketing company to stay profitable during Covid. Being consumer-focused has helped us, as demand has rebounded instantly every time restrictions have eased.
Patrick: Also, because we're 100% self-serve and operate across Europe, we've been able to shift focus and generate revenue from different places at different points in the pandemic. When Denmark was locked down, Sweden was open, and so forth.
Presumably, you still faced several waves of event cancellations in each market. How did you handle this challenge?
Patrick: One of the things we've always emphasised is the responsibility that comes with being a ticketing provider. We're transacting people's hard-earned cash, and if an event is cancelled, people ought to be entitled to a prompt refund.
Joe: We've been able to support massive refunds without compromising liquidity because we've been operating more sustainably than some of our competitors. It has helped us build trust with organisers too.
Patrick: We're a marketplace, and that means both buyers and sellers have to trust us. Organisers don't want to sell if they're worried the buyers won't get their money back should the unforeseen occur.
When did you first realise that mass cancellations and refunds were on the cards?
Patrick: Instantly, because we'd been here before. In 2016, our biggest event to date – Oktoberfest in London – was cancelled due to a fire hazard at the venue. We lost £1m in four days because we had to process all of the customer refunds as charge-backs, and we didn't yet know we'd be unable to recoup the money from the organisers. It was a huge lesson to learn, but it meant that we developed the right policies to handle similar situations in the future. When the Covid crisis hit, we were financially stable and fully prepared.
Online events have taken off during the pandemic. Is this an area you've been focusing on, and what are you predicting for online events once societies reopen permanently?
Patrick: We had many discussions about this internally, but ultimately we wanted to stay true to our mission of enabling people to meet in the real world. So while everyone else gravitated to online events, we went the opposite direction. Of course, as a company, we recognise where online is most useful. In fact, since December, we've rolled out Oculus Rift to our team, and we have our Monday morning meetings in it, which is fantastic.
Joe: There's no doubt that online events have a role to play in the future, but they're fundamentally different to in-person social connectivity. Also, some types of live event are tough to replicate – and monetise – in the online world. Live streaming gigs, for example, is useful when people have no other way of attending. But it's no substitute for the in-person experience.
You've just launched a new product called Billetto Advertising. Can you give us a bit more detail about why you've gone deep on this area of ticketing?
Joe: What we've seen is that most of our target customers find the hardest part of their role isn't creating the experiences – it's promoting them. They're hugely talented organisers, but they're not marketers.
Patrick: These events are run by people with a passion – for music, for sport, for food, for yoga etc. – who need help with exposure, distribution, traffic and promotion. Since Facebook tightened its algorithm and Google tightened up email inboxes, it's become harder for organisers to market their events without learning all the tips and tricks of paid digital marketing. We wanted to invest in these organisers, and give them a promotions tool that they wouldn't have to spend money on or learn for themselves.
Joe: Billetto Advertising is an optional feature that uses an organiser's existing creative – the pictures in their event page gallery, the copy used in their event description – and automatically reformats it for the most relevant marketing channels, buying and trading spots on the organiser's behalf. Since launching in January, over 78% of our current customers are already using it, and it's generated a 20% uplift in tickets sold via Billetto, making us very optimistic about the future.
Patrick: We don't claim to be able to sell all of their tickets, but we can definitely give them a bit of tailwind.
What's the secret to the product's early success?
Joe: The team has built an AI engine to target the right events to the right platforms at the right time, based on data from years of understanding which advertising channels and keywords do the best job of selling tickets. For example, we know that when the sun shines, we should spend more on advertising for football matches. Similarly, ad spending should be higher in the first week of the month because people have just been paid. The product does all of this without human intervention – ramping up advertising when we know there will be greater demand.
Tell us about the role Concentric has played in your growth journey to date.
Patrick: Concentric has always been an active and valued partner in supporting management– not just in terms of board participation, but in the way the team has introduced us to key industry people over the years. They have fantastic networks that would otherwise be quite tricky for us to access, and so they're constantly opening doors and creating new opportunities for us. It could be as simple as connecting us with an advisor who tells us something we don't know, or it could be presenting a new partnership idea with strong market potential.
Finally, what is the next in-person event you'll be attending?
Joe: I think my next event will be a Chinese New Year celebration in my neighbourhood.
Patrick: For me, it's a horse whispering event – learning what your horse is thinking! We added the event to Billetto a while back, and I've spoken about it so much that curiosity has finally got the better of me. I need to go and see it for myself.